Australia-China relations in 2017 – Colin Mackerras in conversation
Description
The Australia-China Relations Institute (ACRI) at the University of Technology Sydney (UTS) welcomes leading Australian Sinologist Professor Colin Mackerras to speak on developments in contemporary Australia-China relations.
Professor Mackerras will provide an overview of his book Western Perspectives on the People's Republic of China (World Scientific, 2015) and offer insights into the contemporary state of Australia-China relations, including the challenges the bilateral relationship is facing. Following his presentation, Professor Mackerras will be interviewed by Professor the Hon Bob Carr, ACRI Director, and participate in a Q&A session with the audience.
Date: Thursday October 19 2017
Time: 6:00pm - 7:30pm
Location: UTS Business School, Building 8, Level 8, Room 8.03, 14–28 Ultimo Road, Ultimo NSW 2007

This event has been made possible with the kind support of China Construction Bank.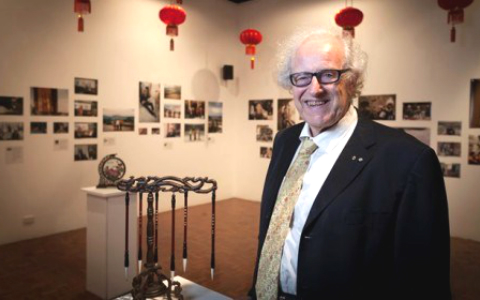 About the speaker:
Colin Mackerras
Professor Colin Mackerras is a Fellow of the Australian Academy of the Humanities and an Officer in the Order of Australia. He did a PhD on the rise of the Peking Opera (Australian National University, 1970) and has two honorary doctorates, one from Griffith University, Australia (2006), the other from the Kyrgyz-Turkish Manas University, Bishkek, Kyrgyzstan, 2004. He is a specialist on Chinese history, culture and ethnic minorities, and Western images of China, and has published widely on all those subjects.
Colin Mackerras worked at Griffith University from 1974 to 2004 and has been a professor Emeritus at the University since retirement. He is currently a Distinguished Visiting Fellow in the Department of Chinese Studies at the University of Sydney and has also worked frequently at the Renmin University, Beijing and Beijing Foreign Studies University.
He first visited China in 1964, working at the Beijing Foreign Languages Institute and has been to China for research, teaching, conferences and tourism purposes about 70 times since then. He has written or edited over 40 books and authored nearly 200 scholarly papers. The most important fully authored books are: (1) Western Perspectives on the People's Republic of China, Politics, Economy and Society, World Scientific Publishing, Singapore, 2015; (2) China in Transformation, 1900-1949, 2nd Edition, Pearson Education, Harlow, London, 2008; (3) China's Ethnic Minorities and Globalisation, Routledge Curzon, London, 2003; (4) China's Minorities: Integration and Modernization in the Twentieth Century, Oxford University Press, Hong Kong, 1994; (5) Chinese Drama, A Historical Survey, New World Press, Beijing, 1990; and (6) The Rise of the Peking Opera, 1770–1870, Social Aspects of the Theatre in Manchu China, Clarendon Press, Oxford, 1972.