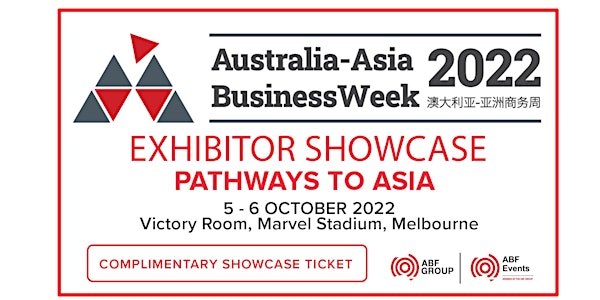 AUSTRALIA-ASIA BUSINESSWEEK EXHIBITOR SHOWCASE free registration
Location
Marvel Stadium, Victory Room
740 Bourke Street
Docklands, VIC 3008
Australia
Major business showcase to connect businesses between Australia-Asia Develop your Asia stratergy and connect with the key Asia markets .
About this event
AUSTRALIA-ASIA EXHIBITOR SHOWCASE - AAF
ATTEND FREE EXHIBITOR SHOWCASE
DELEGATE REGISTRATION available to all events, AAF Forum,Luncheon,NetworkingFunction
Meet with Industry experts, cross-border enterprises, government agengices, industry Associations and Chambers of Commerce. E- Commerce, Blockchain,Fintechs & Innovation.
Review products services and solutions that enhance and streamline business between Australia-Asia with a focus on major markets including.
INDIA. CHINA. SINGAPORE.HONG KONG. VIETNAM
AAF - Exhibitor Showcase (free admission)
AAF Forum Sessions (delegate registration)
AAF Mix at Six Networking Function (delegate)
AAF India Now Leaders Luncheon (delegate)
Features unique products and services to connect businesses in Australia-Asia to grow and scale.
Discover the latest products, tools and technology creating business growth and opportunities to scale within the region.
Learn more: Australia-Asia Forum
Australia-Asia Exhibitor Showcase -----Why Attend?
Refine your Asia strategy at the major Australia Asia Forum in 2022.
Connect with the key Asian Markets.
B2B Opporunties to grow & scale into Asia
Discover the region's latest trends and solutions.
Localise your products and services for the Asia market
Network with leaders in the Australia-Asia sector
Discover the latest cross-border products and services
Featured Industries
Import & Export
Technology & Innovation,
E-Commerce
Professional Services
Market Localisation Services
Healthcare
Education
Tourism
Fintech & Blockchain
Finance , Banking,Payments
Legal Services
Retail
Logistics
Marketing
Government
Associations & Chambers of Commerce
Translation Services
Migration Services
Why Exhibit?
Build brand awareness. 98% of exhibitors report an increase in brand awareness.
Stimulate Sales. 82% of exhibitors report boosts of product sales, both onsite and post-show.
Build relationships with a highly engaged audience. Our visitors spend 5–6 hours at the event. 92% of exhibitors believe the shows are an effective way to connect with consumers face to face.
Launch new products. 98% of visitors attend the event to discover new products, ideas and trends.
National media and brand coverage. Be part of an extensive & strategic marketing campaign.
Foster strong B2B relationships. networking opportunities including a business leaders luncheon Networking functions and Forum Sessions.
Interested in exhibiting sponsorship or speaking
Major Australia-Asia Forum, Exhibitor Showcase, India Now Business Luncheon & Netwoking Functions.
Marvel Stadium Docklands Melbourne 5-6 Oct 2022.
Presented by Australian Business Forum - ABF Events.
Contact tel 613+8689 9898 www.ABF.events. info@ABF.events.