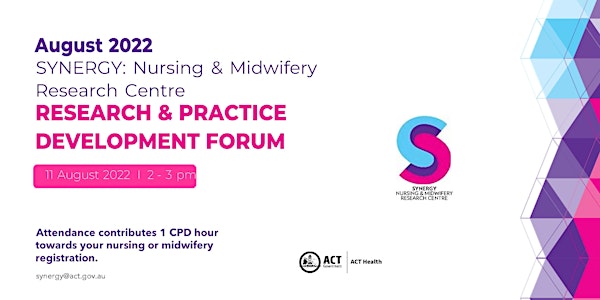 August Forum-SYNERGY Nursing and Midwifery Research & Practice Development
Location
Meeting Room 1, Level 2, Building 8, The Canberra Hospital
building 8, Hospital Road
The Canberra Hospital
Garran, ACT 2605
Australia
SYNERGY: Nursing and Midwifery Research Centre PRESENTS free monthly forums for nurses and midwives
About this event
Join our August 2022 forum!
Each Forum will see two presenters showcasing their research on a wide variety of topics relevant to nurses and midwives. The forums also provide a fantastic networking platform with attendees from various departments across the hospital and academics from the universities.
This forum will be held:
Face-to-face: The Canberra Hospital
On Webex
This forum will be recorded and made available on the SYNERGY website.
Attending this forum will contribute to 1 CPD hour toward your nursing or midwifery registration for the year.
Presentation 1
2pm
Information Literacy of ICU Nurses at the Canberra Hospital
Presented by: Josie Russell-Brown
Evidence Based-Practice is a fundamental expectation of nurses within local and professional governing bodies. Research has shown consistent implementation of EBP leads to high-quality safe care, improved patient outcomes, reduced costs, improved staff satisfaction and improved workplace culture (Melnyk et al., 2018). A key skill associated with EBP, then, is Information Literacy (IL) and the set of abilities or skills that enables one to recognise when information is needed and have the ability to locate, evaluate, and use effectively the needed information (ACRL Health Sciences Interest Group, 2014). Evidence suggests that some nursing staff may not have the skills required (Gerrish et al., 2007; Malik, McKenna, & Plummer, 2016; Sadoughi, Azadi, & Azadi, 2017). The clinical implications of this are that some staff may not look to good quality, current literature to support practice (Alving, Christensen, & Thrysøe, 2018). Education can address this deficit however it is important to firstly establish the level of competency of staff members. Therefore, this study aimed to identify the knowledge and skills of ICU nursing staff in regards to IL at the Canberra Hospital.
Josie is a registered nurse, currently work with the Digital Health Record Readiness team as a lead for the Division of Medicine at the Canberra Hospital. She has experience in intensive care nursing, research and data management, and more recently project management in the ED.
Presentation 2
2:30pm
Exploring the knowledge of Medical Adhesive Related Skin Injury (MARSI) in HITH
Presented by: Emily Costelloe and Leanne Pollard
This presentation will explore the knowledge of Medical Adhesive-Related Skin Injury (MARSI) whilst managing Central Venous Access Devices (CAD). Providing evidence based education.
Emily is a registered nurse with Tuggeranong Community Nursing, with 6 years' experience within Community Nursing. She completed Tissue Viability rotation in 2021, and has a keen interest in wound care.
Questions?
Please direct any questions to us at the SYNERGY Office: synergy@act.gov.au