About this Event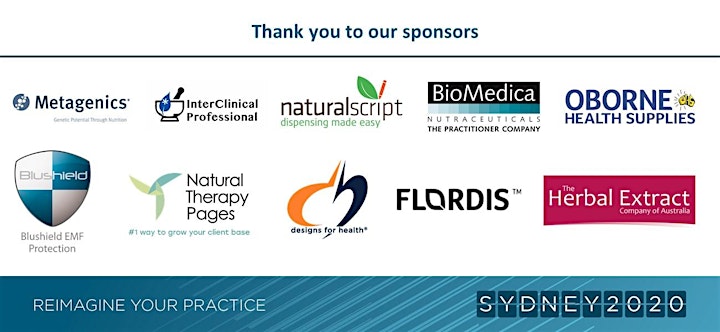 -----------------------------------------------------------------------------
CPE: 6 points
Cost:
Members: $75
Non-Members: $195
-----------------------------------------------------------------------------
Every year ATMS hosts a seminar in conjunction with the Annual General Meeting (AGM). The 2020 special event: Reimagine your Practice will be held in Sydney on Sunday 15 November.
The special events will be tailored to helping practitioners stand out online and create greater opportunities during the recovery period in 2021.
ATMS will host four presenters to train and empower natural medicine practitioners to improve their businesses. Presenters include Entrepreneur Heather Porter, Business Marketing expert Kirryn Zerna, Anil Mustafa from My Appointments and Carl Gibson, Complementary Medicines Australia.
Practitioners will learn how to:
• Have a website that generates leads
• Amplify brand and reputation
• Use business tools for success
Whether you are new to practice or established, or wanting to continue to build your practice, this is an event for natural medicine practitioners who want to reimagine their businesses.
Due to the current COVID-19 venue restrictions tickets are limited.
Speakers and Sessions

Heather Porter (Entrepreneur, trainer and bestselling kindle author)
Session: The 6 Things Your Website Needs to Get Leads and Make Sales on Autopilot
Heather Porter is the Founder of Website Love, a website development and social media agency for small businesses who are ready for growth and is the Co-Founder of The Love Cure, which offers courses for driven women to help decrease their overwhelm and up their happiness.
She is an Amazon Kindle #1 bestseller, co-author of 4 business books, co-host of the podcast 'The Hustle Rebellion', and trainer of 'That Social Media Show' on the Bizversity app used in over 100 countries to train businesses on growth. She is 1-of-9 Facebook Community Trainers in Australia and New Zealand and also regularly speaks for audiences that range from local councils to small business training companies and government-funded projects.
Session overview: People decide in 3 seconds or less if they will leave your website. In this presentation we will cover some simple tips you can use to keep your ideal client on your site longer so you can build your email list, get phone calls and make sales. You will see loads of actual examples of what works plus how one business got 500 leads for free with a little change she did to her website and a simple upsell formula that made her over $20K in sales from those leads.
You will learn:
• How to design your site with the customer journey in mind so new visitors are not confused
• Where to put your opt-ins to build your email list faster
• How to structure your menu to get clicks instead of creating overwhelm
• Why and when to use a landing page
• The copywriting formulas for the 3 core areas on your website
• When and how to use credibility elements to quickly build trust

Kirryn Zerna (Keynote speaker, author and business expert)
Session: Stand Out 2.0: Standing Out, without Selling Out, in this Age of Online Influence
Kirryn Zerna is a Keynote Speaker, Virtual Presenter and author of The Stand Out Effect: a guide that will help leaders and brands to stand out and get noticed online for all the right reasons. She draws on over 15 years of experience with marketing, strategy and social media trends working with businesses both large (Westpac, Department of Industry, NSW Small Business Commissioner) and small (consulting agencies, small businesses and high profile individuals); including over 2,000 small businesses and entrepreneurs through state and federal funded programs.
Kirryn holds a Bachelor of Management, a Masters of Management and is a Graduate of the Australian Institute of Company Directors. In 2017 she was awarded the Kerrie Nairn Scholarship by Professional Speakers Australia and currently serves on their National Board.
Session overview: We've embarked on a new age of online influence where the ordinary can forge the path of the celebrity, and reaching a large audience is more possible than ever. So how do you seize the opportunity to amplify your brand and reputation? How do you stand out in this complex and crowded space without selling out on what makes you unique?
Draw on the lessons from global and local brands in this fast-paced, fun and practical keynote. Where you'll be equipped with key elements to help you stand out, with tools you can immediately apply.
In this practical and research-rich session, audiences will:
• Gain insights and inspiration from brands who have achieved reputational cut-through online at little or no cost.
• The 3 elements of any remarkable brand message in the digital arena, and what to avoid.
• A practical blueprint for boosting your online visibility using digital storytelling.

Carl Gibson (CEO of Complementary Medicines Australia)
Session: CMA Launch My Appointments
Carl Gibson has been CEO of CMA for over seven years. Prior to joining CMA, Carl was Head of Brand & Communications at Australia's leading natural health company Blackmores. He started his career in the UK as a public servant, before joining the Conservative Party as a media and political adviser. His career spans over 25 years and he has specialised in Regulation, Public Policy and Campaign Communications. Carl holds a Masters of Science in Corporate Governance and serves on the TGA Consultative Committee and Advertising Code Council.
Session overview: CMA will be launching a new platform to help practitioners manage and grow their businesses.
Recognising the challenges practitioners face in business, Complementary Medicines Australia (CMA), has set out to deliver an innovative practice management solution that will:
• Stimulate practice growth
• Reduce administrative burdens
• Save practitioners time and money
• Support the wider complementary medicine and natural health sector
My Appointments is a healthcare community-based initiative, developed by practitioners for practitioners. With 10% of profits to be invested in a practitioner fighting fund.
Refund Policy: Bookings cancelled with less than 7 days notice before the seminar date will not be entitled to a refund or credit.
Please be advised that it is not permissible to bring children to ATMS seminars.