Join us at one of Melbourne's leading sports training facilities to learn from international presenter James Schomburgk.
About this event
This workshop is most suitable for physios in private practice of up to 5 years of experience, but will also benefit more experienced physios as a refresher and to help you get up to date in the most current and cutting edge evidence and practices.
Course times:
Saturday 31 July    1pm - 5pm
Sunday 1 August       9am - 4pm
Buy 3+ tickets - Save $50 per ticket
For those clinic owners who choose to send 3 or more team members to the course (or attend yourself with 2 or more team members), we are offering an extra $50 per ticket discount for purchases of 3 or more tickets.

Who is James?
James Schomburgk is the Director of Back in Motion Campbelltown and Valley View in South Australia. James is also the owner of The Second Visit, an international physiotherapy mentoring and education company.
He was the WorkCover South Australia Physio Advisor for 8 years, is an Expert Advisor to AHPRA, and has been the National President of MPA (Musculoskeletal Physiotherapy Australia).
He has been a branch councillor for the APA and remains a very active member of the profession representing the APA in many committees.
He is currently a lecturer at the School of Medicine at the University of Adelaide, teaching musculoskeletal and sports medicine. He was also previously a lecturer and clinical supervisor at the School of Physiotherapy for 11 years at the University of SA, has been a guest lecturer at the School of Physiotherapy at Flinders University and has been a Clinical Examiner at the School of Medicine at Adelaide Uni.
He was also a Clinical Supervisor for the musculoskeletal master's program at Latrobe University.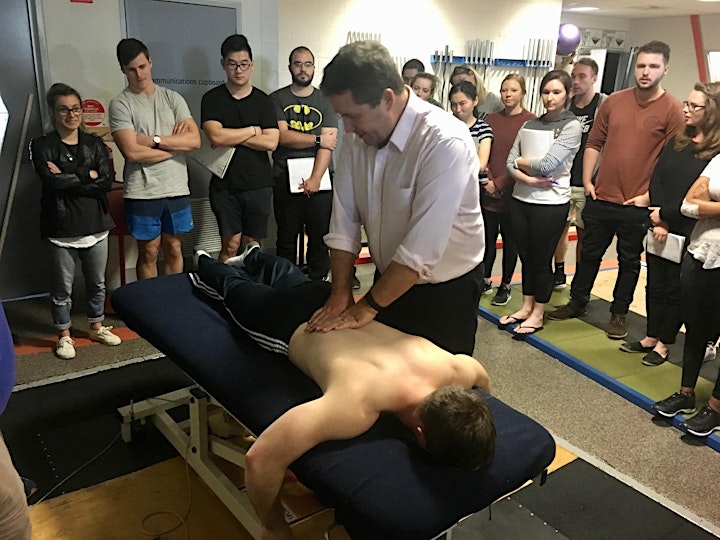 Course content includes:
Aetiology
Risk factors and how to address them
Physical
Psychosocial
Prevention
Translating anatomy to practice
Looking at the whole body
How does h/a, Cx pain, shoulder pain, Tx pain, upper limb pain, plantar fasciitis, lower limb disorders develop as a result of recurrent or chronic LBP.
Red flags
Specific diagnoses
How to assess, diagnose and treat
Disc prolapses, vs bulges, annular tears and protrusions
Spondylolisthesis
Spinal canal stenosis
Radiculopathy
Modic changes
Non-specific LBP- integrating the O'Sullivan Approach
Forebrain driven and Rx
Movement impairments
Motor control impairments
Manual therapy especially for movement impairments
How does passive mobilisation work?
Using science to maximise your clinical result in very simple ways
Passive mobilisation techniques, new and improved
How to choose the correct technique, including the grade and direction
Learn how to master and simplify
Rotations, lateral glides, AP as well as PA
Neurodynamics
SLR
Slump
PKB
PPVIMS to assess for spondylolisthesis and motor control
ASLR, and other control tests for assessment, Dx and choosing Rx
Directing exercise
The role of the hip in contributing to LBP
Assessment
Treatment techniques
Why do the course?
The skills of manual therapy are disappearing, and so are our fast results in settling LBP.
In this course, you will learn how to hone your old skills, learn new techniques, but become better at choosing the best Rx for each different low back presentation. You will be able to apply new research into your clinical approach the day after leaving the course.
You will be able to identify and manage the contributing factors to LBP so much better.
More sustained clinical results
Greater income by helping people more by preventing recurrence- it is so fulfilling too!
Be able to add far more value to your clients by addressing contributing factors, so clients will be wowed more
Clients become raving fans because you go beyond what most physios do- most physios just treat symptoms and discharge leaving them highly likely to recur
Build a list of raving fans, so you are always busy with clients who love you!
Much greater work satisfaction when you help those whose previous physios haven't been able to
Please note:
This course involves numerous practical components so please dress accordingly in loose-fitting clothing.
If you have any dietary requirements please advise when booking. 
Organizer of Assessment and treatment of the lumbo-pelvic complex 2021