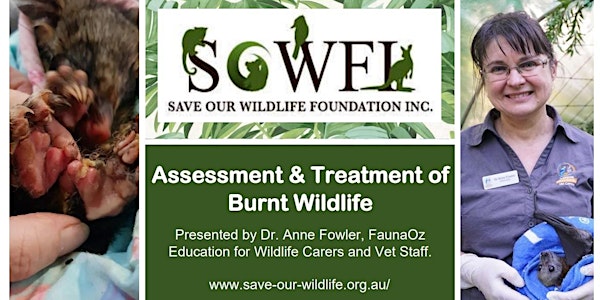 Assessment and treatment of burnt wildlife presented By Dr Anne Fowler
Location
Straight Smile Centre
Cnr Portrush & Kensington Road
Norwood, SA 5067
Australia
Refund policy
Contact the organiser to request a refund.
Eventbrite's fee is nonrefundable.
Assessment and treatment of burnt wildlife with Dr Anne Fowler, sponsored by Save Our Wildlife Foundation Inc (SOWFI)
About this event
Why does our wildlife need your help?
Our wildlife populations are decreasing at rapid rates thanks to climate change, urban sprawl and the consequent loss of habitat, cars, dogs, cats, foxes, poisoning and many other human related issues. The educated assistance of Wildlife Carers and Vet staff is key to their welfare.
Assessment and treatment of burnt wildlife
Presenter: Dr Anne Fowler
Background: This course was developed in 2006 and by 2016 over 3000 people (vets, nurses and carers) have attended this training. The goal has been to have everyone on the same page. The training has formed the basis of the Victorian government response to wildlife in fires.
Objective:
By the conclusion attendees will be understand the AIIMS structure, how to assess and provide basic treatment and supportive care for the burnt wildlife patient. Successful completion involves completing a quiz (pass is 70%) and demonstrating competency in performing two styles of bandaging. The day will start promptly at 9am.
Program:
Time Topic
9.00 – 10.00 Introduction: AIIMS, organisation at fire
10.00 – 11.00 Assessment of burns – performing a physical examination, determining the extent of the burns
11.00 – 11.30 MORNING TEA
11.30 – 12.30 Treatment of burns – includes correcting dehydration, wet to dry dressings, treating the burns and medications
12.30 – 1.00 Complications of burns – specific problems seen with burns
1.00 – 2.00 LUNCH
2.00 – 3.00 Supportive care of different species: koalas, possums, kangaroos, echidna and lizards
3.00 – 3.30 Rehabilitation and release – addresses checklist for rehabilitation, and issues around release in terms of the environment and animal.
3.30 – 4.00 AFTERNOON TEA AND COMPLETE QUIZ
4.00 – 5.00 Practical – two styles of bandaging hands
Prior knowledge:
It is expected that attendees will have basic knowledge in the husbandry of species likely to be affected by fire. If possible, the Basic wildlife awareness course may be completed online prior to attendance.
Costs: $75
SOWFI Members $35
We trust you will gain useful new knowledge to treat wildlife and will have the ability to discuss topics amongst your peers. We also look forward to listing your practice as "Wildlife Friendly" with our 24/7 Wildlife Rescue Line when giving advice to the general public and our volunteers.
Event Queries - call Marian - 0408 613 749