Location
Dogwood Crossing @ Miles
81 Murilla Street
Miles, QLD 4415
Australia
'Asia Pacific Contemporary' celebrates the Queensland Art Gallery | Gallery of Modern Art's APT of Contemporary Art in its tenth iteration.
About this event
Featuring works that have appeared in the Triennial since its debut in the 1990s, and across media from painting and sculpture, to video, performance and works on paper, 'Asia Pacific Contemporary' showcases art from Aotearoa New Zealand, Australia, Cambodia, China, India, Indonesia, Pakistan, Papua New Guinea, Taiwan, Vanuatu and Vietnam.
As these varied and compelling artworks demonstrate, the Asia Pacific Triennial of Contemporary Art continues to be a pre-eminent platform for the art of Asia, Australia and the Pacific, surveying a vast and dynamic region through a series of exhibitions, forums and cultural exchanges. The diverse works in 'Asia Pacific Contemporary' reflect the APT's embrace of contemporary art in all its forms, ranging from the ceremonial to the conceptual, and from the deeply personal to the resolutely social.
EXHIBITION OPENING
8 July 2022, 6.30pm
EXHIBITION DATES
9 July – 20 August 2022
Image caption: Tomoko Kashiki Japan b.1982 I am a rock 2012 Synthetic polymer paint, masking tape on linen on plywood, 162 x 227.5cm The Kenneth and Yasuko Myer Collection of Contemporary Asian Art. Purchased 2013 with funds from Michael Sidney Myer through the Queensland Art Gallery Foundation Photograph: Natasha Harth, QAGOMA © Tomoko Kashiki

On the Curved Wall
Miles High Showcase
Miles State High School Visual Arts Students
The Miles High Showcase presents an exciting and diverse exhibition of artwork created by students in the course of their studies this year.
The senior Visual Art students have been considering 'Scapes'. Thinking outside the landscape box, students were challenged to morph two contrasting environments - physical, social or emotional - into a single landscape. A selection of miniature-rise sculptures, also on show, have been created for installation in the school's outdoor environment.
The junior Visual Art students have been working on their sketching skills, creating still life pencil sketches, highlight the shading techniques they have learnt. An array of hand painted wooden boomerangs, also on show, have been crafted from scratch.
Reminding us that art can be incorporated into all areas of the school curriculum, the year 7 Humanities students have a display of Egyptian clay artefacts resulting from their study of Ancient Egyptian daily-life, significant individuals and rituals.
EXHIBITION OPENING
8 July 2022, 6.30pm
EXHIBITION DATES
9 July – 20 August 2022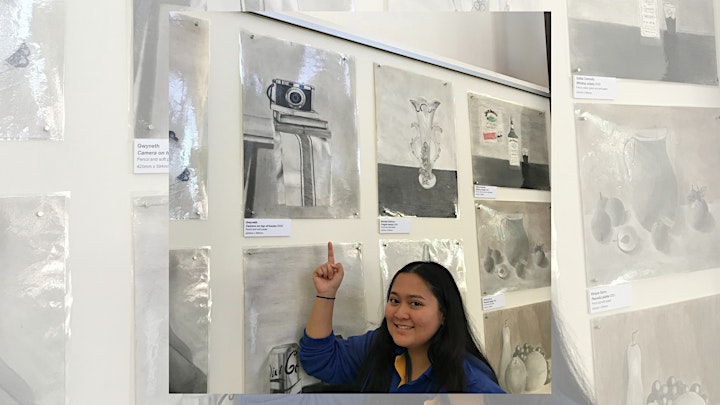 Image caption: Hermionne Stapleton with junior art students still life artwork – Miles High Showcase 2021