ASI Day of Immunology Adelaide: SA's Fight Against COVID-19
Join us in celebrating the International Day of Immunology with an expert panel discussion on the role SA is playing in COVID-19 research.
About this event
Are you interested in local research? Curious about the role South Australian researchers are playing in the fight against COVID-19?
Hosted by The Australian and New Zealand Society of Immunology (ASI), this event is a great opportunity to answer any questions and access accurate scientific information on the immunology of COVID-19 and the research currently being conducted right here in South Australia.
We will briefly hear from a lineup of local experts about the research being conducted into COVID-19, followed by a panel discussion open to the public.
A/Prof. Jill Carr, Flinders University
Dr. Branka Grubor-Bauk, The University of Adelaide
Prof. Nikolai Petrovsky, Flinders University
The event will also be live streamed for remote attendance via Zoom.
Other online Day of Immunology events:
For more information on the Day of Immunology visit our website or follow us on twitter, facebook or instagram.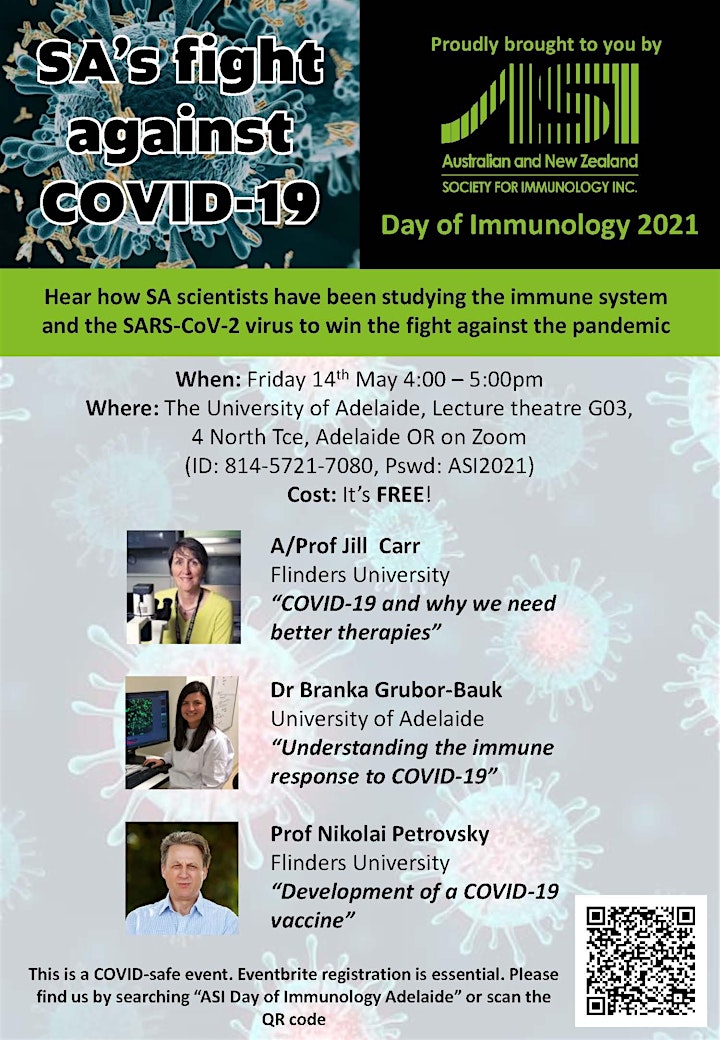 Organiser of ASI Day of Immunology Adelaide: SA's Fight Against COVID-19