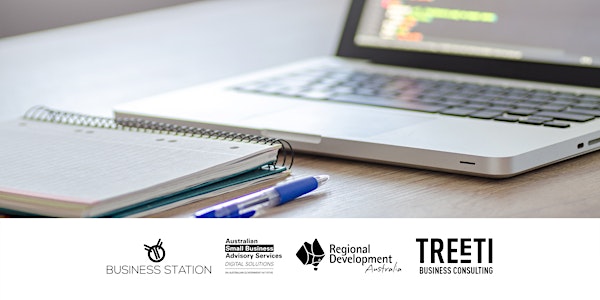 ASBAS (COVID-19) Free Online Business Forum presented by Business Station
Sales Have Ended
Registrations are closed
Thank you for your registration to our ASBAS Digital Solutions Event.
Sales Have Ended
Registrations are closed
Thank you for your registration to our ASBAS Digital Solutions Event.
Description
ABOUT THE ONLINE BUSINESS FORUM
Virtual Business Forum Time:
WA - 11:00 am to 12:00 pm (AWST)
NT - 12:30 am to 1:30 pm (ACST)
QLD - 1:00 pm to 2:00 PM (AEST)
The COVID-19 virus is creating a unique and unprecedented situation for small business owners. In Western Australia, the full impact is yet to be seen, so now is the time to start protecting your business and your future viability.
But what can you do when you have no physical customers? What is the concept of fear; and managing a crisis communication plan? How can you move your workforce from office to working from home?
To help you navigate this uncharted territory, we have brought together some of our top digital experts in a series of online forums. Register for one, or for all, as the situation continually unfolds and changes.
In each session, four experts will deliver an overview on a topic related to managing your business through the COVID19 situation and will then open the forum for you to ask questions specifically related to your business.
Best practice, easy-to-implement solutions and updates on COVID19 strategy will be the main focus through ASBAS Digital Solutions.
In this session, you can learn about:
top things to include in a Management Plan for your business to actively manage the risks due to the Corona virus
making a COVID 19 Business Continuity Plan
the power of a digital declutter during the downtime - how to get your storage under control and conduct a content audit.
During tough times, how to utilise Instagram marketing (how to grow organically)
To help ensure you receive the most relevant information and have your questions answered, if you have any initial questions about the above topics you would like covered, feel free to email them before the session to asbas@businessstation.com.au
This COVID-19 Online Business Forum is brought to you by Business Station and AusIndustry under the ASBAS Digital Solutions Program.
ABOUT THE PRESENTERS
Jo Saunders
Jo Saunders is a leading international LinkedIn expert, marketing strategist and social media educator who has been helping people connect and communicate since the early 90s, through pen and paper, events and social media.
Known as Australia's LinkedIn Demystifier, Jo guides individuals and teams through the complexities of LinkedIn and social marketing tools, to communicate your brand message, showcase your talent, build thought leadership and relationships.
With over 20 years' experience in event management and marketing, she has designed events, content and communication strategies for Australian and international events, organisations and businesses.
Greg Mawer
Greg Mawer is a Director, CPA & Tax Agent at Mawer Consulting. Greg has extensive taxation and business advisory experience having worked in public practice, commerce and academia for over a decade. Apart from being experienced in the usual tax and financial statements, Greg loves helping people in business achieve all they desire with strategic planning and financial modelling.
Mawer Consulting is a multi-award winning, modern and progressive accounting firm providing a range essential business services to small and medium business clients based in Manning, WA.
Krystle Divertie
Krystle Divertie, the founder of Krystle Clear Solutions, is the Organisation Queen, approaching systems and processes with passion, lists and outrageous organisation (hence the title).
Her depth of knowledge and experience will help you to discover and promote internal structure, create foundations and document business processes which innovate efficiency and transform your business for growth.
Digital tools such as Trello, Asana, Clickup, LastPass, Dashlane, Canva, GSuite, Office365, Zoom, Loom support businesses to provide high quality services both internally and externally and Krystle can support you to implement them efficiently and effectively with your business goals in mind.
Breanna Kerle
Bree is the owner of a social media marketing business, Bree Designs. With extensive media, social media marketing, and website experience, Bree studied a Bachelor of IT and New Media at university. She has expansive knowledge across a range of fields including Instagram marketing, TikTok marketing, Facebook marketing, Ads, Email marketing, website design & development, eCommerce, sales, digital products, and launches. Her design background and marketing experience sets her apart and gets results for her small business clients.
Important - Participating businesses must be aware that this information will be provided to the Commonwealth Department of Jobs and Small Business and the Commonwealth Department of Industry, Innovation and Science for program evaluation and reporting purposes and; they may be approached by a representative of the Department of Industry, Innovation and Science to complete a survey on the services provided.
PLEASE NOTE: To register for this event you must be a business operating for profit (0-19 employees) and provide your ABN.
#covid19 #ASBASdigitalsolutions #businessstation #smallbusinessadvisory #smallbusinessowners #digitalsolutions #expertadvice #crisisstrategy