Description
Artsource in association with the Art Gallery Of Western Australia invites contemporary Indigenous artists to talk about their practice with a focus on collaboration. Deborah Bonar and Sandra Hill will discuss their experience navigating business collaborations with artists and fabricators cross-culturally in the complicated environment of public art. All welcome.
Deborah Bonar
Perth based artist, Deborah Bonar, has created a unique personal style, creating vibrant works with immense visual power and complexity. Her paintings are bold kaleidoscopes of vigorous lines and dots. Influenced by her Gija and Yamatji heritage, her artwork demonstrates the importance of place in forming cultural identity and in capturing and fascinating our imagination.
Deborah has exhibited widely in Western Australia. In 2015, she won the City of Belmont Art and Photographic Awards (Perth Airport Prize Aboriginal Art) and in 2011 she won the coveted Cossack Art Award (WA Indigenous Artist). Her work is held in both private and public collections.
Deborah has completed a number of public art commissions. She recently completed a Percent for Art Project for Pundulmurra Health and Community Services Training Centre, South Hedland, and painted an outdoor mural for the City of Kwinana at Harry McGuigan Park, Medina. In 2015 she created two major artworks, Birth Place and Childbirth for St John of God Midland Hospital. Through collaboration, she has created notable public artworks for Fiona Stanley Hospital; the Munday Wall; Port Coogee-Beeliar Boodjar artwork; and Cockburn Integrated Health.
Deborah conducts interactive corporate workshops, community canvases and art workshops at schools. www.scribblebark.com.au
Sandra Hill
Nyoongar artist Sandra Hill was born in South Perth in 1951. Hill works across various media, including painting, printing, mixed-media collage, sculpture, installation and public art. Having these skills has meant that Hill has been in constant demand as an arts worker and she has undertaken roles such as lecturer, public speaker, workshop facilitator, cultural consultant and researcher.
Hill's early work focuses on policies and legislation that gave the Western Australian government comprehensive control over its Aboriginal citizens. As a member of the Stolen Generation, Hill says "art became my way of dealing with the profound sense of loss, sadness and grief that my removal from family, culture and community left me with and as an emerging artist I made it my mission to expose, through my art, the segregation, injustice, mental, physical and emotional cruelty meted out to my people since colonization". Hill's work is extremely personal and is a historical visual essay drawing on her own experiences and the injustice of living under the Native Welfare regime in Aboriginal Western Australia.
In 1994 Hill was awarded a Creative Development Fellowship from the Australia Council for The Arts, followed by another from the WA Department for Culture and the Arts in 2010 which enabled her to continue her research relating to her artistic, familial and cultural development.
Hill has designed and worked collaboratively with the J Shed Art Studio on 35- 40 Public Art projects including the BHP Children's Water Playground at Elizabeth Quay, The Yagan Commemorative Memorial, The Leach Highway Noise wall artworks, Roe Highway and Tonkin Highway artworks, Ngunnawal Commemorative artwork, Canberra, Coolbaroo League artwork in East Perth, Edith Cowan University artworks, Leighton Beach artworks as well as numerous schools and other public facilities.
Sandra has taught art at various institutions including TAFE, Juvenile Detention Centre's and Edith Cowan University. Hill was the Director and Lecturer of the Associate Degree in Contemporary Aboriginal Art at Curtin University from 1999 to 2004. She holds a Post Graduate Diploma from Curtin University. She has sat on numerous Boards over the years including Western Australian Museum Aboriginal Advisory Committee, The Berndt Museum of Anthropology, Challenger TAFE and John Curtin Gallery, Curtin University. While in the position of Aboriginal Cultural Arts Officer Sandra co-ordinated the Mandurah Fish Mungah Aboriginal Cultural Arts Festivals in both 1997 and 1998, she also worked as the Aboriginal Cultural Arts Officer at the Geraldton Regional Education Centre in 1994.
In 2010 Sandra was a finalist and the recipient of the People's Choice Award at the 2015 at the Indigenous Art Awards at the Art Gallery of WA. Currently, she is one of thirty of the top Indigenous artists in the country, and the only Nyoongar artist, to have her work chosen for the National Indigenous Art Triennial lll, which commemorates the 50th Anniversary of the 1967 Aboriginal Referendum. The exhibition titled "Defying Empire" opened at the National Gallery of Australia in Canberra on 25 May this year.
Hill's work is represented in institutional collections, including that of the National Gallery of Australia-Canberra, Art Gallery of Western Australia, National Gallery of Victoria, Parliament House Collection- Canberra, Parliament House Collection- Western Australia, Berndt Museum of Anthropology Aboriginal Art Collection, Holmes à Court Collection, John Curtin University Collection, City of Bunbury Collection, City of Perth Collection, Claremont School of Art Collection, The Dutch Consulate, Edith Cowan University Collection, Queens University Collection of Indigenous Art, Canada, Royal Archives- The Netherlands, Western Australia Museum Collection, The Sir James Cruthers Foundation, Murdoch University Collection, numerous private collections.
Presenting partner: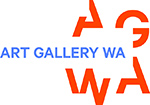 IMAGE ABOVE: Deborah Bonar, Fiona Stanley Hospital, Murdoch - Welcome to Country, 2014 Percent for Art Project. Image courtesy the artist.