Join the artsbus these school holidays in some free creative at-home workshops.
About this event
We are excited to welcome you to artsbus at home these school holidays.
The artsbus has a range of workshops suitable for children and teenagers between ages 5 - 17 in Australia. Click 'Register' to see the list of events and book in for one, two, or more workshops with us! Scroll down below for more information about each workshop.
Note: If you or your child has any access needs, please contact Gen via email: artsbus@akc.org.au or call 0478 814 840 to ensure we provide an accessible event.
All events are free and times listed are in AEST. As part of our child-safety guidelines, all participants must be registered with the artsbus already or book in eventbrite and have their camera on while in the call.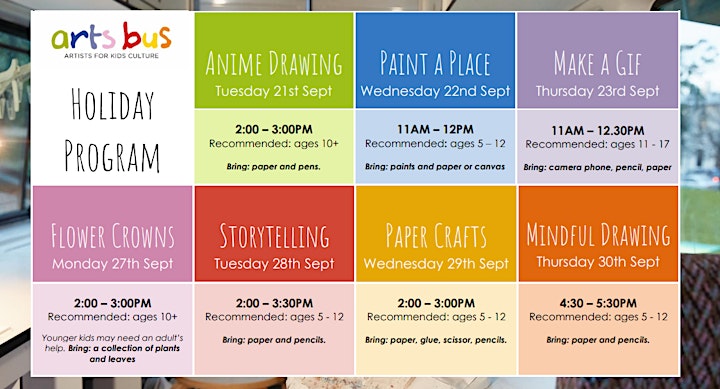 About the workshops
Anime Drawing - Tuesday 21 Sept, 2PM - 3PM
Join the artsbus for Anime Art with Imogen (Lucid Mutant). In this one-hour workshop, Imogen will share the basics of Anime drawing with children and teenagers online. This workshop is recommended for ages 10 - 17.
Bring: pens and paper
Paint a Place - Wednesday 22 Sept, 11AM - 12PM
Join Gen from the artsbus for a one-hour painting workshop. Bring acrylic or watercolour paints and paper or cardboard, ready to create a landscape! Recommended for primary aged children.
Make a GIF - Thursday 23 Sept, 11AM - 12.30PM
Join Gen from the artsbus and learn how to make your own animated GIF! Whether you draw on paper or make digital drawings, this workshop is for any young artist wanting to try out animation. You will need a camera / camera phone and drawing equipment. This workshop is designed for children and young people (ages 11-17).
Flower Crowns with Belle - Monday 27 Sept, 2 - 3PM
Celebrate the arrival of Spring with a wearable Flower Crown! Children will gather flowers and leaves from their local area and make a flower crown.
This workshop is recommended for ages 10-17. Younger kids may need an adult's help. Bring: a collection of plants and leaves
Storytelling - Tuesday 28 Sept, 2 - 3:30PM
Join a drawing, colouring and storytelling workshop with Belle Formica. Children will listen to a story and then write and draw their own story, adding colour to the storybook. This workshop is recommended for primary school aged chidren.
Bring: paper and pencils. If you have access to a printer, you can print off the free optional colouring book here.
Belle is a multidisciplinary artist who makes art from the heart. She uses art to connect with her inner & outer world, explore emotions & experiences and cultivate feelings of calm & joy. Belle lives and creates on unceded Wurundjeri land. Check out Belle's creations on their website or Instagram
Paper Crafts - Wednesday 29 Sept, 2 - 3PM
Lily from the artsbus will be taking us through a fun paper crafting workshop. Bring paper, scissors, glue and coloured pens or pencils. We love to upcycle so old magazines or newspapers are welcome! Recommended for primary aged children.
Mindful Drawing - Thurs 30 Sept, 4:30 - 5:30PM
A relaxing workshop hosted by Eleni from artsbus to close off the last few days of the school holidays. Designed for primary aged children - bring paper and pencils or watercolour paint and be guided to express yourself through colour and art.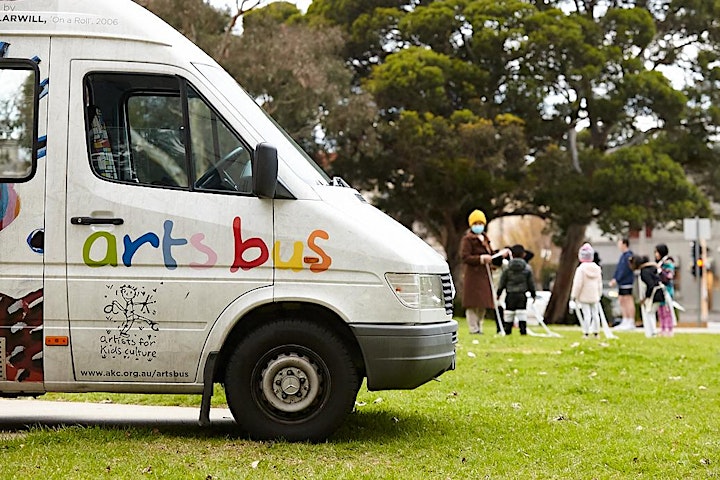 About the artsbus
The arts bus is a mobile studio providing creative activities to kids who might otherwise miss out. Proudly supported by The Collie Foundation and local governments, the arts bus is free and targeted at children aged 5 - 17 in Victoria. Artists for Kids' Culture believe all children should have the opportunity to take part in art and cultural experiences that will expand their horizons.
Organiser of artsbus at home: Holiday Program
The artsbus is a mobile arts studio, theatre and music space, enabling AKC to facilitate meaningful, thoughtful and therapeutic arts activities. It brings quality arts practices to children who would otherwise miss out.
If you would like to support the work of Artists for Kids Culture, please consider making a donation at: https://www.akc.org.au/donate/