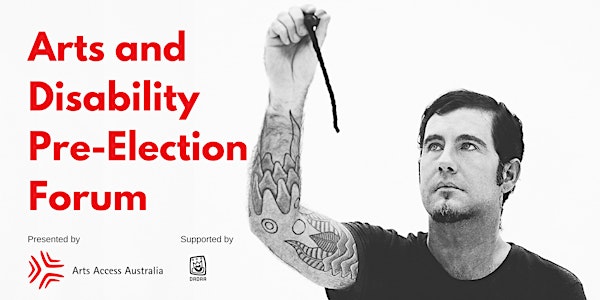 Arts and Disability Pre-Election Forum
Location
DADAA Inc
92 Adelaide Street
Fremantle, WA 6160
Australia
How does the government plan to support artists with disability? Hear directly from MPs and candidates in this live-streamed Q&A forum.
About this event
Artists with disability earn 42% less than artists without disability.
In the lead-up to 2019 Federal Election, Arts Access Australia (AAA) will host the Arts and Disability Pre-Election Forum to provide an opportunity for MPs and candidates to address this issue. The forum is proudly supported by DADAA.
Doors will open at 10am AWST for a 10.30am start. Live-streaming will begin at 10.30 am AWST.
The forum will begin with MPs and candidates presenting each party's approach to creating equal access to the arts for people with disability.
Each MP and candidate will also be invited to respond to AAA"s #RealMoneyRealJobs campaign.
The public will then be invited to ask MPs and candidates their questions about accessibility in the arts.
Event information
Time: 10.00am - 12.00pm AWST
(Formal proceedings / live-streaming 10.30 - 11.30am AWST)
Location: DADAA, 92 Adelaide Terrace, FREMANTLE
Refreshments: Light refreshments will be provided
Remote access: the event will be video streamed. Viewers can call in or post their questions online.
Event access: Audio Description, Assistive listening, Auslan, Relaxed program (informal, friendly, simple language.)
RSVP: This is a free event, but attendees will need to register to attend the event. We recommend that if you plan on live-streaming the event that you also register beforehand so we can email you the live-stream weblink.
Event image: Black and white image showing artist Jeremy Hawkes with his arm in the air drawing a line with a marker. Photographer: Kate Holmes
Below image: #RealMoneyRealJobs election priorities. Shows artist Kath Duncan next to a statement that reads: Real money: more money to support artists with disability. Real jobs: more people with disability employed in all government-funded arts and cultural organisations.