ARTIST WORKSHOP - GOING 'PRO'-POLISHING YOUR ART PRACTICE AND GETTING PROFE...
Description
GET ORGANISED, GET SERIOUS, GET OUT THERE
Want to take your art practice to a professional level?
This set of lessons will give you the tools to help you organise your art practice and be ready to approach galleries and art shows professionally. They will allow you to develop a clear vision of what you want to achieve in your own art development and provide you with useful ways that will save you time, get organised and get your work out in the market place. You will be given tips on how best to present your work and how to improve your connections to the arts community.
Created for all levels of artists who want to improve their art practice.
1. CREATING IT - DIRECTIONS & DEVELOPMENTS SATURDAY SEPTEMBER 24TH 2016
2. CATALOGING & PRESENTING YOUR WORK SATURDAY OCTOBER 1ST 2016
3. THE MARKET PLACE - HOW DO YOU COMPARE SATURDAY OCTOBER 8TH 2016
4. GETTING EXPOSURE SATURDAY OCTOBER 15TH 2016
5. SELF ANALYSIS & CRITIQUE SATURDAY OCT 22ND 2016
See below for details on each lesson. Select one or all of the workshops.
EXTRA BONUS:
Bonus 1:
RECEIVE A FREE CRITIQUE
Special bonus add on for those purchasing the complete set of classes... you receive a 30 minute one-on-one critique of your current artworks by ArtSHINE associate-artist, Kristine Ballard.
Bonus 2:
Received a 45 minutes FREE Business Coaching Session with your business coach Vinh Van Lam from ArtSHINE. To discover how we can help you take your Art Business to the next level.
Please Note:
When you purchased a full set workshop (5 Workshops). The first worshop will commence on 24 September. See above for workshop dates.
CLASSES ARE 2 HOURS. 10AM - 12 NOON SATURDAYS .
$59 PER CLASS OR $245 FOR FULL SET (SAVE $50).
Workshops to be held at Artshine Space & Gallery. 3 Blackfriars St, Chippendale
BOOK NOW! VERY LIMITED SEATS!
ABOUT THE WORKSHOPS:
1. CREATING IT - DIRECTIONS & DEVELOPMENTS
Where are you at right now? Creating clarity and planning the development in your own art practice. How to stop the 'hobby' and start the profession. How can you improve this in order for you to enjoy creating and improve efficiency?
In this lesson you will learn:
• How to streamline organising your art equipment, materials and art space.
• Discover and define what kind of artist you want to be.
• Define your process and direction? How comprehending these things can help create clarity as an artist and make others take your art practice seriously.
• Creating a plan for self development and growth as an artist.
2. CATALOGING & PRESENTING YOUR WORK
How do you organise your work.? Are you frustrated by a lack of 'system' in your filing and presentation. Presenting your work professionally will make you and others respect the dedication and care you put into your work. We will review how to present your work in the best way including methods of cataloging your work that will save you time and allow you to easily retrieve artwork and images instantly.
In this lesson you will learn:
• Planning. Size, materials and consistency.
• Naming, filing and photographing your artworks
• Presentation of your artworks - Physical framing and digital formats.
• Filing, storage and labelling your work.
3. THE MARKET PLACE - HOW DO YOU COMPARE
What's your artwork worth? Do have trouble pricing your work? Are you unclear as to how to categorise your creations? Learn how to build a structure for pricing and sizing of your artwork based on your experience.
In this lesson you will learn:
• What category your work fits into and how to differentiate your work from others.
• How to research the market place. What are other artists doing?
• How to translate your value and experience in the pricing and sizing of your work.
4. GETTING EXPOSURE
Confused as to where to go to place your artwork? Learn about the variety of opportunities available to you and how to create a plan that will have you excited about the growth of your art. Learn what material to have ready when an opportunity arises.
In this lesson you will learn:
• What are your target groups?
• How to find and leverage your opportunities.
• What to have in your 'self promotion kit'.
• How to handle social media platforms.
5. SELF ANALYSIS & CRITIQUE
Self reflection and review is an important element in the creative process. Often it is the most neglected area of the art practice. Ironically it can be the key to your growth and development. It can also expand your enjoyment of other artist's work and progress. Learn a variety of techniques that will help you break down the process.
In this lesson you will learn:
• How to critique and evaluate your own work
• How to use this knowledge to improve your future work.
• How to remain positive and maintain direction.
• How to keep a consistent dialogue about your work.
• How to set progressive goals for your future work.
ABOUT YOUR INSTRUCTOR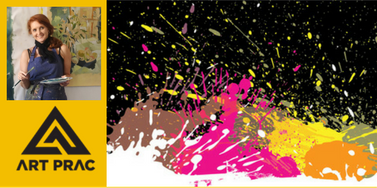 Kristine Ballard is a practicing artist and art educator. She is also an experienced graphic designer and studio manager. She has been in the design industry for over 25 years, designing and managing large art studios. For 12 years she was in partnership running the Northshore School of Art. She was the arts presenter of EDTV and has run many art events and workshops. She now specialises in one-to-one art classes and conducts an art workshop in Fiji annually.
In her own art practice Kristine exhibits regularly in exhibitions and shows. She has completed art residencies in New York, Venice and Monsalvat, Australia's oldest art colony in Victoria.
Kristine brings her unique combination of design and fine arts experience to present you with workable tools that can fast track your own creative process and provide you with positive productive outcomes in your own art career.

3 Blackfriars Street

Chippendale Creative Precinct

Sydney NSW 2008 .+61 2 9698 9156