Location
Object: Australian Design Centre
101-115 William Street
Darlinghurst
Sydney, NSW 2010
Australia
How do we give our most abundant textiles a new lease on life?
About this event
Designer, Eloise Rapp, talks us through her exhibition work, Gingham All You've Got, and shares insight into her sustainable design practice, techniques and processes - with the opportunity for questions along the way.
About Eloise Rapp
Eloise is a textile designer and educator working on Dharug and Gundungurra land in the Blue Mountains. Through her design studio, Push Pull Textiles, she applies the wisdom of traditional textile methods and philosophies to contemporary challenges in design and manufacturing. Working from the principle that any material can be broken down and re-assembled, Push Pull's purpose is to use what is available—rejecting outdated and harmful models of overproduction and instead exploring the potential of what already exists. The results are rich and expressive studies in the transformational quality of hand making.
This is a free event. As Australian Design Centre is a not-for-profit organisation, please consider making a donation to help us support contemporary craft and design practitioners and makers through our work. You can donate as you register for this event or via our website here.
We are following the NSW Health COVID-19 Safety Industry Guidelines for museums and galleries to keep our guests and staff safe.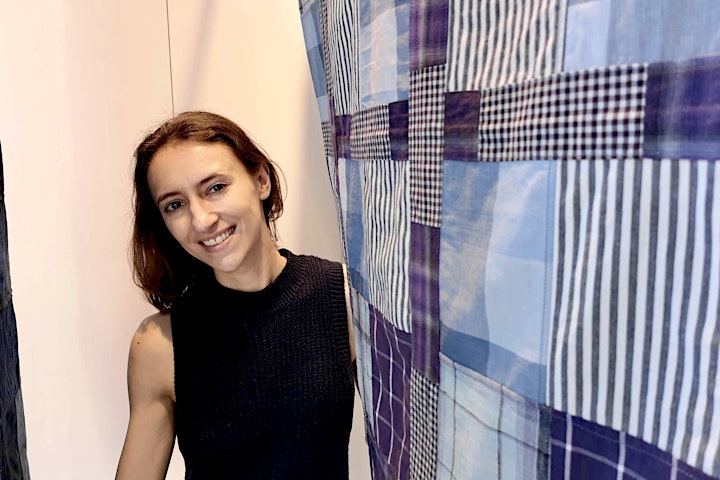 Image top: Eloise Rapp, Assemblage Shirt, Image: Chris Gaul
Image bottom: Eloise Rapp with Gingham All You've Got, Image: Australian Design Centre
FILMING AND PHOTOGRAPHY
Please note: This event will be recorded. By attending the event you agree to be filmed and photographed, and for those images and footage to be shared online and across various promotional platforms.