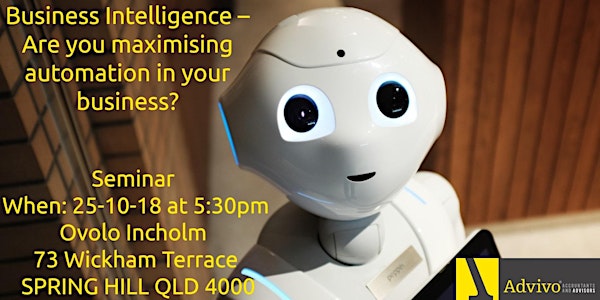 Artificial and Business Intelligence – Maximising your business efficiency!
Location
Ovolo Inchcolm
73 Wickham Terrace
Spring Hill, QLD 4000
Australia
Description
More and more industries are looking at innovative ways to automate procedures and systems in their businesses to help increase their profits. At Advivo we are always looking at ways to automate everyday jobs in our business, we would like to introduce our guest speakers Rob King, Des Watkins and Linda Ginger who all have something to share with you at this seminar.
To learn more about our speakers, read on.
Guest Speaker – Des Watkins from Watkins Steel
Des has been director of Watkins Steel since 2004, taking over from his father after working at the company for 10 years. Possessing a Graduate Diploma of Teaching (Science and Maths) and a Bachelor of Applied Science and Construction Mgt., Des has a wealth of knowledge and experience in the steel fabrication industry.
Responsible for spearheading multiple initiatives over the years, Des has successfully implemented best practice lean manufacturing procedures in the factory and transformed the way Watkins Steel operates as a steel fabrication company. Passionate about innovation, Des has led the Watkins Steel team to new heights by overseeing the development of the "Watkins Steel Four Step Process", an end-to-end digital workflow for steel fabrication and installation that is unique to Watkins Steel.
Des and the team at Watkins Steel have also been the proud recipient of several awards over the last few years listed below in recognition of their commitment to innovation and efficiency.
2016 YPO Tommy Award for "out of the box" Innovation presented at YPO Innovation Week in New York City. Awarded for the development of the Watkins Steel 4-step linked process.

2016 AFR & PwC's Private Clients Aspire Awards in the category of Private Business Growth & Transformation ($10m-$50m). Recognised for our investment in technological innovations, which have assisted in the successful growth and transformation of the company.

2017 Tekla BIM Awards (Australia & New Zealand) in the Sports and Recreation Category. Awarded for our Tekla model of The Parklands Gold Coast (Commonwealth Games Athletes Village) architectural arbour and disc structure.

2017 Lord Mayor's Business Award for Digital Adoption Strategy. Awarded for continual improvement of the Watkins Steel 4-step linked process by introducing Mixed/Augmented Reality into the steel fabrication and installation process, as well as, our commissioning of a second line of advanced robotics creating a set-up first of its kind in Australia.

2018 Manufacturers Monthly Endeavour Awards for Most Innovative Manufacturing Company. Awarded for the development of the Watkins Steel 4-step linked process and continual investment in technology.
Robert King - Cloud Integrator | CA Accountant | Small Business Advisor
Robert realised very early on that he had a knack for numbers and participated in an accounting class in his senior years as the only student and secured a traineeship with a local accounting firm in his final year.
Not long into his career he enrolled in Bachelor of Business at University whilst maintaining a full time position at my first Accounting Firm. After 5 years and a greater need to spread his wings he chose to move to the big smoke to widen my horizons.
At a firm in Brisbane CBD, as a Senior Accountant, he grasped the ability to not just sit at a desk and run numbers but to engage and converse with clients. It was here that he learnt the importance of building relationships in business and how vital it can be in the field of accounting.
It was not long after he moved to a position at another firm as a Client Manager that he was able to really hone and perfect the skills of consulting to clients. In this position he had the freedom to explore what cloud applications can do and how they can integrate into small businesses. Rob was able to take my skills to the next level and help small businesses understand the additional reporting they had access to from their cloud applications to improve their business.
Rob is a Cloud Integrations Consultant with a background in Accounting. He has a passion for helping small business owners adapt and transition in the ever-changing landscape. His experience in both the Cloud Computing and Accounting fields allows him to effectively match a customers' needs with products and applications that will enhance all aspects of their business.
Through his extensive experience as an accountant and having owned businesses of his own Robert understand the needs, anxieties, and obstacles that small business owners face.
Guest Speaker Linda Ginger - Market Strategist | Data Science
Linda has in excess of 20 years strategic marketing experience that spans a multitude of industries across corporate, SME and not-for-profit, over three continents. She holds non-executive director and advisory board roles to bring science-based market strategy knowledge and advice to business.
Over the past four years Linda has been CEO and board member of Growth Science, a global, U.S. based data science research firm that uses big data and algorithms to guide investment decisions for new products, M&A, and venture capital, for some of the world's most innovative companies.
The experience of Growth Science has had a powerful and profound impact on her knowledge and advice to companies of any size wanting to invest in growth to compete and win in their marketplace.
Linda will share the insights of the research started at Intel and Harvard Business School in 2006, how the science of the research can be applied to evaluate the likely survival odds of your own growth projects, and how she uses the science to discover transformative opportunities at a fraction of the cost and time of traditional methods.