Description
About:
In this new program, babies 4 – 12 months, together with their parents and carers, can explore select works in the Geometries exhibition through an engaging walking tour followed by a multi-sensory interactive play session. This exhibition highlights art that challenges our perceptions of colour, pattern and shape through geometric abstraction and optical illusion. Explore a number of works from the QAGOMA Collection including paintings, sculptures, prints and objects from leading Australian and international artists.
This program acknowledges that babies are a valid audience for art and like you, they can also be stimulated and engaged while looking at art.
The program runs for approximately 45 minutes.
Big Blue (1981-82) by Bridget Riley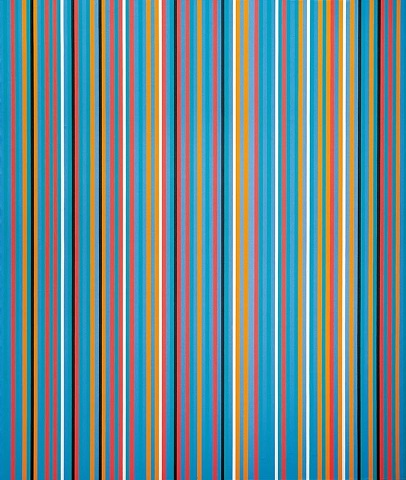 ---
Important information
Art Starters is a free program, scheduled on select Wednesdays from 3 July – 25 September during the Geometries exhibition and excluding public holidays.
Capacity is limited and bookings are essential. Bookings will only be accepted when made by a parent or guardian for their own child. There is a maximum of two parents or carers per child per booking.
The same program is repeated for the duration of the exhibition and to allow as many families as possible to participate, only one session per family may be booked.
---
How to find us
The program is located at the Queensland Art Gallery (QAG).

Parking is available at the Cultural Centre Precinct car parks and is subject to availability, we advise arriving early to give yourself enough time to find a carpark. Bus, train and CityCat stops are within walking distance of the Gallery.
Visit our website at www.qagoma.qld.gov.au/visiting-us for more information.