Description
ART RETREAT with Julie Mac.
Total Fee is $495 which includes EVERYTHING: all art materials AND a gourmet lunch, morning and afternoon teas - all you need to do is turn up.....

A 2 day Weekend escape into the world of Art making and Creative Fun. Secure your spot with $100 deposit - then pay the balance 7 days prior via invoice.


Have you ever wanted to draw beyond stick figures?
Would you like to discover how to unlock that 'creative' brain so you can paint like picasso?
Or how about just want to chill out, have some fun, be creative and have a few laughs with great people?
Then join us for this weekend and let Julie show you how you can draw and paint.

You will tap into your 'inner artist', you will discover how to drop into a meditative state and get in the flow where the mind chatter stops and you will experience peace and harmony. What more could you ask for?

By the end of the weekend, you will have experienced a full immersion into art making, drawing, painting, lots of fun, delicious food and walk away with some fabulous ready to hang artworks and great memories.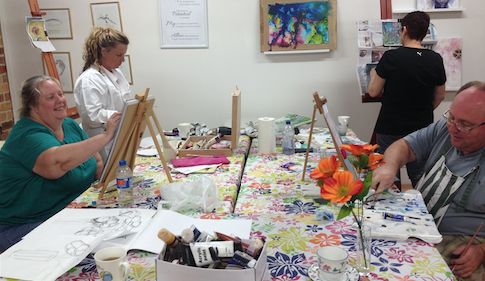 What's included in the price
1. All your art materials are supplied. The idea of this weekend, is that you don't have to bring anything except yourself. Art materials ARE REALLY EXPENSIVE and it could cost you $1000's to get a good working setup so everything is supplied. You will be using a combination of mediums but not limited to:

Charcoal

Acrylics

Pencils - both lead and colouring in.


Pastels - oils and soft.

Inks - liquid and pen.

2. All your papers and canvases supplied.

Watercolour papers

Canvases

Collage papers
3. What will you be painting and drawing?
On the Saturday, we will get straight into some really expressive and easy drawings, using pencil, charcoals, inks (yes I will show you how to draw) and really just have fun with putting 'marks on paper'. In the afternoon, we will bring these marks into making something real, portraiture, still life, collage, whatever you desire. I will have some examples to explore BUT this is YOUR TIME to be artistic so I am going to help you achieve that. Then on the Sunday we will continue in a view of finishing the pieces ready to take home.
4. Your lunch, morning and afternoon tea is supplied.


So all you need to do is just turn up! Easy peasy!


FAF - Frequently Asked Fears

1. But I can't draw - got that covered - the very first day will be showing you HOW EASY you CAN draw, so you don't need to worry at all about that.
2. I can't paint - got that covered as well - even though I am a qualified and registered art teacher, I will be allowing you to explore YOUR OWN expression. So I can show you the techniques and skills, you will find your own inner artist and no one will be judging you.
2. I'm not creative at all - you don't have to be, the exercises that I can give to you will help you to create things that you never thought you could do.
4. What if I mess it up - then we start again OR we use what we have and redesign. In fact, I very rarely get a painting first off. A lot of mine have been painted over.
_____________________________________________
A bit about Julie.....
I am a registered and qualified Art Teacher. with the Department of Education. I have been teaching art to High School students, University Students and Adults plus exhibiting for many years. My website is: www.galleryjuliemac.com.au.
The foundation of my work is in scientific drawing and I have found my artmaking over the years has changed with how my life has changed. I now explore expressive abstracts but find I am always bringing in the drawing element.
I paint because I have a fascination for making a meaningful and satisfying mark, it is a way of processing ideas, it is a way of bringing beauty into my world, a form of self expression and it is a way of being happy. I enter into the world of creativity through mindfulness and getting in the flow. It is the most serene and gratifying activity on this earth.

I am passionate about SHOWING YOU HOW EASY it is to draw and paint. I promise you, that you will be amazed with what you can actually do.
Overcome your fears and join me, you will love it.
_____________________________________________
No experience necessary.
Please Note: There is a limit of 4 people only, with 3 minimum for the weekend to commence.
Pay the deposit today, then you will receive Welcome email and Invoice for $395 which is to be paid no later than 1 week prior.
For futher questions, please email me on julie@juliemac.com.au
Cancellation Policy
If you need to cancel, at least 1 weeks prior to the weekend commencing will receive a full refund less the depsoit of $100. There are no refunds from 6 days prior to the event commencing.


In the event of the cancellation of this event by the organizer, you will receive a full refund of the course including your deposit.

Ther is a limit of 4 people and a minimum of 3. If you have paid in full and the minimum isn't achieved, then you will be offered a transfer to another date OR a full refund.

This cancellation policy is final.