Art of Lunch | Gang Gang Gallery| Rebecca Wilson| Paddy Connor
About this Event
VISUAL ARTIST -Rebecca Wilson
MUSICIAN- Paddy Connor
THEME- Hill End- Myth making, Heroes and Villans
NOTE: This venue is hosting a banquet
All venues require prior knowledge of your dietary requirements so please register them with your selected event venue at time of booking, such as gluten free or vegan, for each diner who has a special need.
FLAVOURS- Bush ranger inspired feast
LOCATION- Gang Gang Gallery, Lithgow
DATE- SUNDAY 26/05/2019
TIME- 1pm-3pm
*************
SEQUENCE OF EVENTS
Arrive 12.55pm - welcome music
Appreciate the art, meet the Artist
Entree
Enjoy your table's company.
Mains
30 min Concert by Musician
Desert
Meet the chef: from Darleys Restaurant.
*****************
Simultaneously, on the last Sunday of each month, select venues provide the supreme Sunday lunch. Each venue will feature a thematic event with an art exhibition opened by the artist, entertainment by professional musician and menu designed by chef. In some instances, a dance or theatrical performance will be part of the menu.
PARTICIPATING VENUES for 2019
Gang Gang Gallery , Lithgow
Echoes Restaurant , Katoomba
The Avalon. Katoomba
Wild Valley Art Park, Wentworth Falls.
Gallery One88 Katoomba : New downstairs restaurant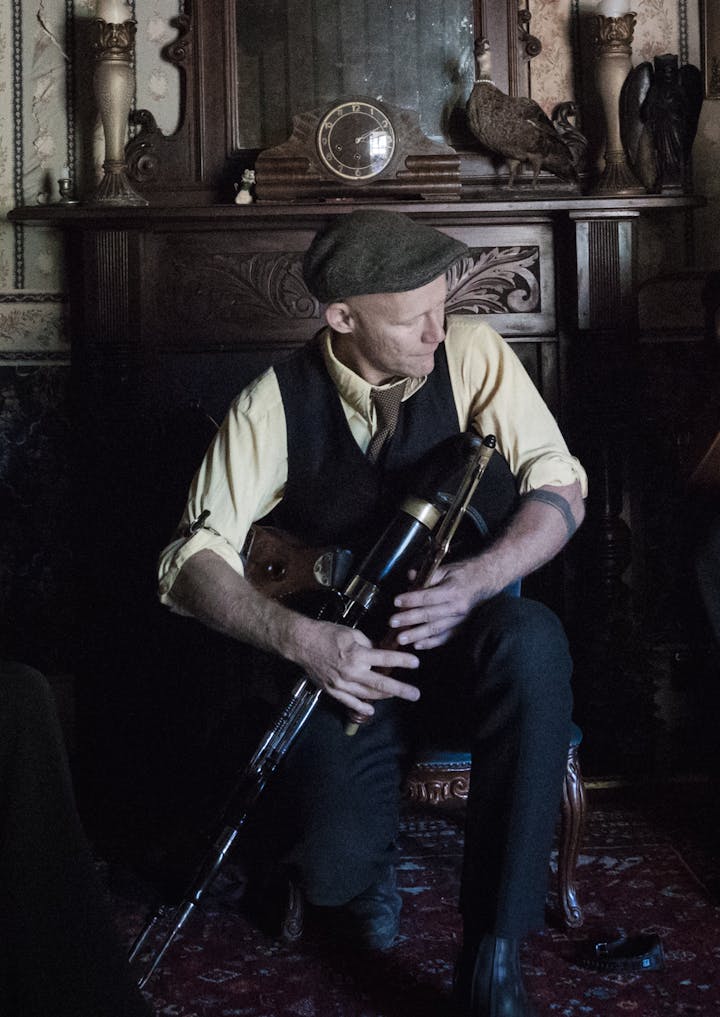 Be it with a gently twanging banjo, a storytelling guitar, or stomping jigs on the uilleann pipes, Paddy Connor has toured the Australian folk festival circuit from Tasmania to North Queensland with trad-folk and original songwriting that paints loving shadows around our country's troubled soul.
Paddy will complement the Bushrangers Buffet and the visual art by Rebecca Wilson with her exhibition theme: Myth-making, Heroes and Villans.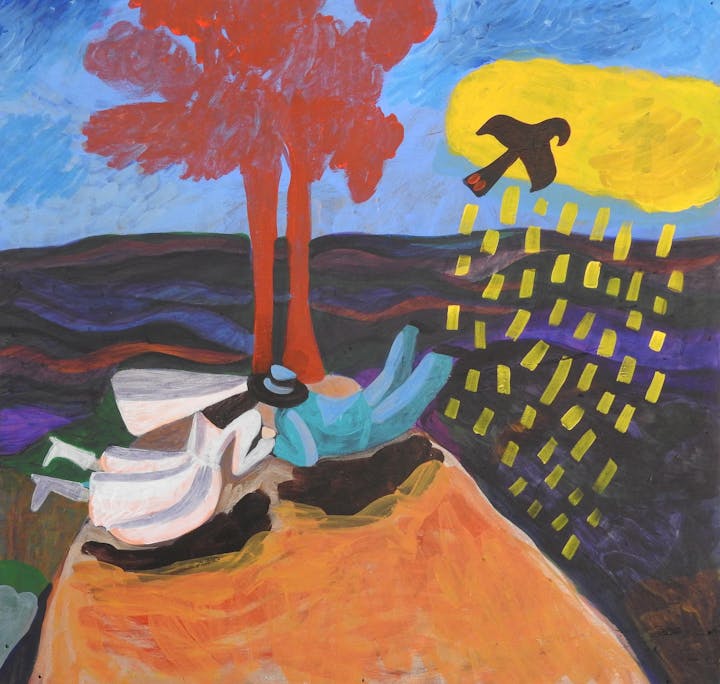 A Portrait of Landscape and Time in Hill End: Myth-making, Heroes and Villains is an exhibition of paintings and research, with an accompanying book. The works unearth lesser known stories of the remote and iconic town of Hill End. They disrupt common narratives of the region, questioning who the real heroes and villains are in recorded history and how we create myths and icons.
"The line that divides good and evil cuts through the heart of every man," is a quote from Russian writer Aleksandr Solzhenitsyn which introduces the viewer to the artist's narrative works. These span from early white settlement to present day, avoiding a normal sequence of time, allowing events from 200 years ago to co-exist with events from the 21st century, highlighting the constant presence of ghosts from the past in contemporary Hill End.
Artist bio – Rebecca Wilson
Rebecca Wilson has a studio in the bush setting she has called home since she arrived at Hill End in 2009. She continues to produce her artwork, research, writing & podcasts from the remote, historic gold town.
In 2001 and 2007 Rebecca was a finalist in the Blake Prize for Religious Art and was invited as part of the Blake Tour 2001-2. In 2007 her Australianism exhibition began her investigation into Australian myths and icons such as Ned Kelly.
Rebecca studied at the National Art School and went on to complete her Masters at the College of Fine Art at UNSW in Paddington, Sydney (2002). She moved overseas to live and work in Bangkok, Thailand (2002-2005), where she taught art at an international school, was invited as a guest lecturer at ABAC Tertiary College and exhibited at February Studios and Poh Chang Art Gallery. The only Australian artist invited to attend the first 'Artists for Elephants' expedition in Lampang she exhibited in the related group show at the Thailand Cultural Centre in Bangkok.
From 2011-2016 she taught art and design at TAFE Western Institute in Bathurst and Orange and at the beginning of 2016 Rebecca completed an artist residency at Red Gate Gallery in Beijing, China. She worked as Communications & Project Officer for Arts OutWest in Bathurst 2017-2018.
From 2015 - 2018, "Kate Kelly: Sister of an Outlaw", Rebecca's collection of narrative paintings and accompanying book were exhibited in Leichhardt, Blackheath, Bathurst, Hill End, Orange, Wangaratta, Grenfell, Sofala and Forbes as part of the River Arts Festival. In 2018 some of those works were exhibited in Kensington London and she presented a talk at Kensington Library.
Rebecca has featured in the Sydney Morning Herald and the Age newspapers, she has been interviewed on ABC radio and 2MMM in Orange. In 2016 she appeared on Channel Ten's show Studio 10 to discuss her research, artwork and book when it was exhibited in Grenfell and the following year in Parkes. All media coverage can be seen/listened to via her website: www.rebeccawilsonart.com
Social media links & website
The Art of Lunch project was created by our new company, Earthly Delights Events and has received funding from the Australian Government's Building Better Regions Fund, as well as support from local enterprises such as Scenic World and BMR Accounting.
Our vision is to reach out to lovers of music, art and food and to initiate events that bring together cultural and economic benefits to those living and working in the Blue Mountains and Lithgow.
EARTHLY DELIGHTS EVENTS TEAM:
Susan Cochrane - Creative Director/ Art Curator
Brad Diedrich - Design/ Web and Marketing Director
Meg Benson- Strategic Marketing & Music Director
Simon Lenthen : Finance manager
If you would like to know more, go to www.artoflunch.com.au