About this Event
Come journey with Andrew as he shares practical steps & real life experiences that seek to provoke, equip & inspire.
Subjects will include :
Folio - How to create a body of work that represents who you are & where you are going.
Inspiration - How to be inspired without comparison corroding your creativity.
Balance - How to balance your distribution of time between work, health, social, family...etc
Finances - How to structure your practice / lifestyle to reflect your budget.
Momentum - How to project plan into the future while not drowning out spontaneity.
Ups & Downs - How to be responsive & not reactive to your creative journey.
Diversify - How to embrace opportunities while not losing focus.
Collaboration - How to create & sustain collaborations without getting weird with 'networking'.
Communication - How to stay accessible, personable & authentic with clients.
Professionalism - How to grow in your skills, approach & implementation.
Pricing - How to cost your personal investment of time. materials & knowledge for each project.
Structure - How to take care of your business back end at the start so it doesn't overwhelm you later on.
ABOUT THE ARTIST:
Andrew Frazer is a full-time, multidisciplinary artist from Gelorup, Western Australia.
Inspired by stories of hope, despair, redemption, pain & forgiveness - Andrew's narrative based art continues to draw upon these experiences that connect us all through shared stories. From public murals, illustration, hand lettering, design & arts management (Six Two Three Zero) - Andrew's arts practise continues to expand & refine as a testament to his passion for personal growth.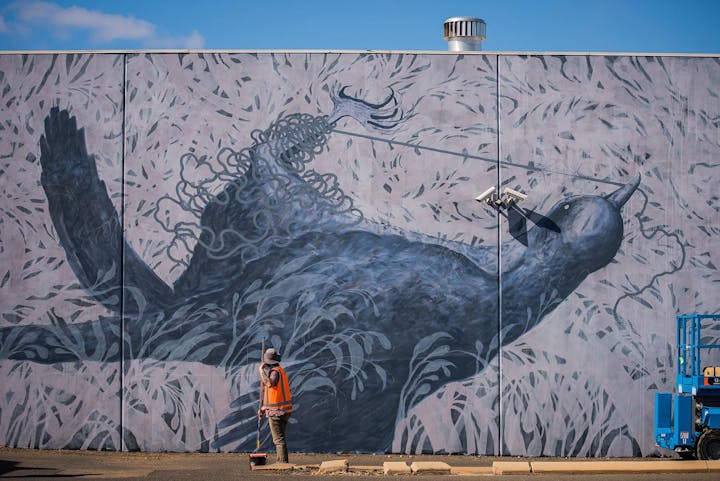 Image Credit: Andrew Frazer, 'Unravelled', 2018, Photo by Billy Ray Stokes
(Top) Andrew Frazer, 'Waiting To Be Found', 2018

This workshop is presented by the City of Greater Geraldton with support from The Geraldton Project