Description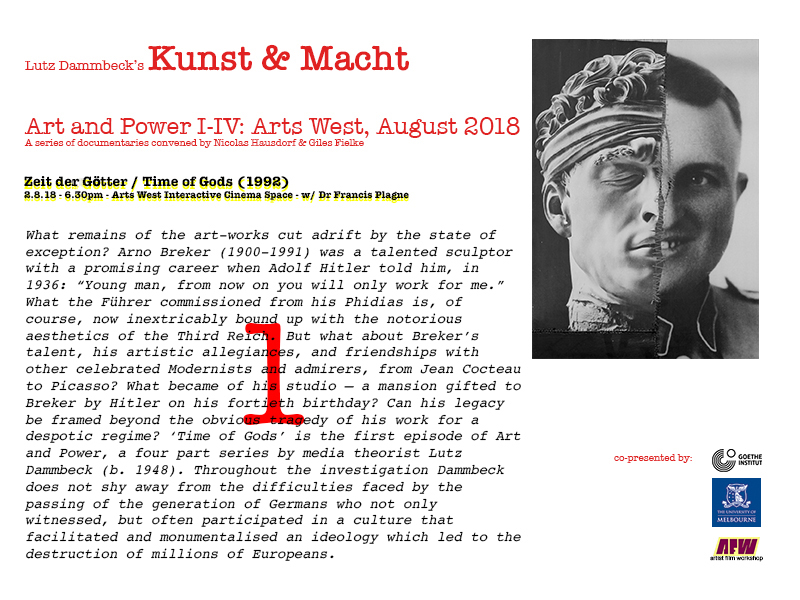 Four screenings of Lutz Dammbeck's documentary tetralogy Kunst und Macht / Art and Power at the University of Melbourne's, Interactive cinema space - Arts West building.
This 4 part film screening beginning on 2nd August and finishing on 23rd August is convened by Giles Simon Fielke (Writer, Artist Film Workshop) and Nicolas Hausdorf (Curator, Writer, 'Arena' - Australian magazine for Political, Social and Cultural Commentary), in cooperation with the Goethe-Institut, the University of Melbourne and the Artist Film Workshop.
For more information about this event and the Goethe Institut please go to:
https://www.goethe.de/ins/au/en/ver.cfm
Summary:
Art and Power
How and when do artists become complicit with power, entangled in its strategies that sometimes surpass their awareness?
German filmmaker Lutz Dammbeck's perspective is a unique one. Perhaps it is the result of Dammbeck being part of a minority of artists that were able leave socialist East Germany in 1986 for the Western liberal-capitalist part of the country? The director allows us to share his viewpoint which, although highly subjective, appears nonetheless cautiously observing, impartial and even strangely ahistorical at times.
From 1992-2003, Dammbeck created a four-part series in which he traces the ways art merges with power, talking to artists and intellectuals who, after the heights of their careers, sometimes abruptly find themselves marginalised and sidelined by an unforeseen historical change. In the process, he uncovers a complex of creators, institutions and a legacy of ideas from Nazi to GDR art, Viennese antimodernist actionism, to Silicon Valley Hippies and cybernetics, and invites us to step outside, to estrange ourselves from our own historical context. This is why Australian audiences will want to engage with Dammbeck's simple premise, which examines how far these powerful images can be transmitted across time and place, and what remains of their influence at the end of the 20th century and beyond.
Screening 1, 'Time of the Gods', Zeit der Götter (see image and summary above) will be followed by a Q&A with Francis Plagne
Screening 2, 'Durer's Heirs', Dürer's Erben will be followed by a Q&A with Claudia Sandberg
Screening 3, The Master's Game, Das Meisterspiel will be followed by a Q&A with Justin Clemens
Screening 4, The Net, Das Netz will be followed by a Q&A with David Homewood.