Description
Description

You may of have done the walk from Bondi to Coogee or the other way round but what if you want to explore the beaches in the other direction. If so, then come and join us for some fun and adventure to spice up your Saturday morning. We will meet at Coogee Beach outside Chish and Fips and then we will walk together, covering around three beaches. We may head to Maroubra Junction for lunch afterwards as there are more choices of food to suit the tastes of everyone.
Event essentials:
The walk is expected to be about an hour to 1.5 hours, depending on fitness levels.
Meeting Place is outside Chish and Fips at Coogee Beach and the final destination is Maroubra Beach. However, we will head to Maroubra Junction for lunch and you are more than welcome to join us afterwards.
Meeting time is at 10:00am. We will wait for you as a group for about 10-15 minutes but after that, you must find your own way to join the group if you are running late.
Event suitable for those who have an adequate fitness level or those who are wanting to get out and about for the day, particularly mums.
Please ensure that you wear sun protective gear as we may be out in the sun for long periods of time.
In case of wet weather, we may do something around Coogee or Maroubra Beaches. I will advise on this closer to the time.
Be willing to meet new people and have a fun time.
Below is the route we are likely to walk: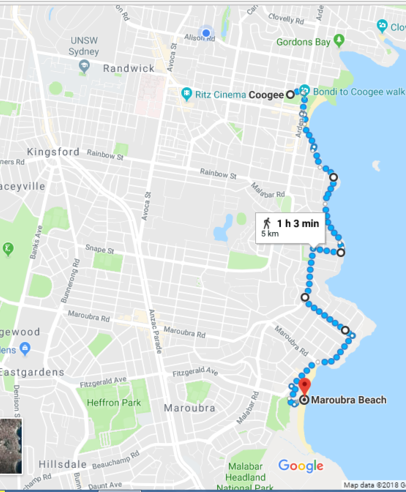 If you have any questions, please feel free to contact me.

See you there :)