Description
** Due to popular demand, we've had to change to a bigger venue. This event will now be held a Moda Events in Portside, a beautiful venue with spectacular riverfront views**

Join us for a journey into psychic discovery, transformation, and essential oil exploration. This one-day workshop comprises a treasure-chest of exercises, aromas and inner "wow" moments.

Every exercise will showcase the Young Living oils for their spiritual and metaphysical applications, as well as opening you to your inner wisdom and gifts. Artemis be the presenter for the psychic and spiritual development classes, and will be supported by several other "surprise" presenters.

We know you'll LOVE the range of exciting topics I have in store for you (see flyer below), including animal communication, spiritual channelling, creating miracles with a group prayer tree, AromaYoga with a twist, and much, much more!!!
What to bring:
A photo of an animal or pet, an individual animal that you know very well, belonging to you or a friend/family member.
A deck of imagery cards eg. tarot cards, angel cards (Have recognisable pictures on it).
Yoga Mat - If you want something to lie on during the Shavasana
Notepad and pen
Water bottle
Lunch - you can either bring your own lunch (eat outside), or purchase from the cafes or restaurants downstairs.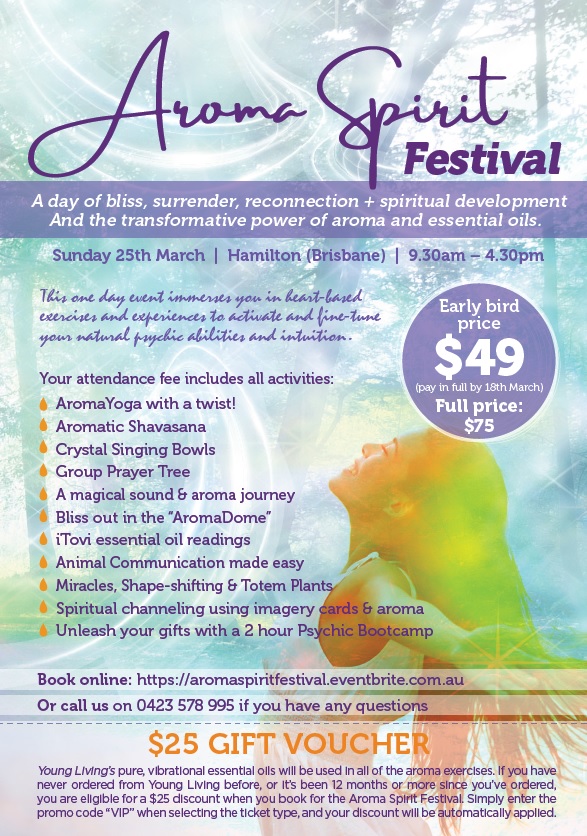 Terms & Condition:
Once paid, your attendance fee is non-refundable.

Please gift your ticket to a lucky friend if you are unable to attend, and advise us of the change of names on the booking.

Classes open to age 16 and above. If a child under 16 is wanting to attend, this needs to be checked with the organizer first. Please email book@healthgarden.com.au