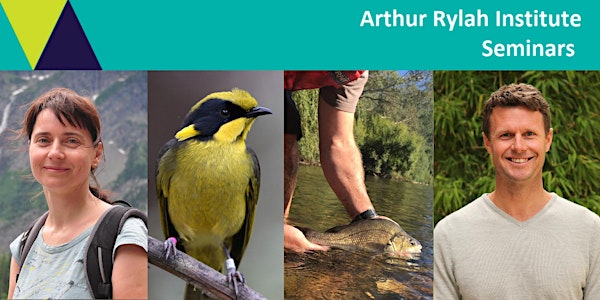 ARI Seminar: Genetic Rescue- Dr Sasha Pavlova (MU) & Dr Zeb Tonkin (ARI)
Learn from the experts. Details for this seminar are coming soon.
About this event
The 2022 ARI Seminar series continues with two speakers on genetic rescue in practice. Genetic rescue is quickly becoming a respected, cost-effective technique giving threatened species a fighting chance for population recovery. Join us online to hear from:
Dr Sasha Pavlova (Monash University) Genetic management of wildlife in a changing world.
Dr Zeb Tonkin (Arthur Rylah Institute) Incorporating genetic management into threatened species recovery: A case study of Macquarie perch in the Ovens River
Dr Pavlova is an evolutionary biologist passionate about biodiversity conservation. She received a Master's in Zoology from Moscow State University and a PhD in Ecology, Evolution and Behaviour from the University of Minnesota. In 2005, Dr Pavlova teamed up with Professor Sunnucks at Monash University, where she integrates genetics, evolution and ecology to study how wildlife adapts and persists in the face of human impacts. She uses this knowledge to help her wildlife management collaborators improve outcomes for species of conservation concern.
Zeb manages the Instream Habitat and Environmental Flows program. Zeb has extensive experience in recruitment dynamics of freshwater fish, environmental flows, fish migratory behaviour, floodplain assemblages, threatened and pest species and habitat restoration. His broad skill base includes collection and identification of adult and larval fish, external and internal tagging (including radio and acoustic telemetry), otolith preparation and interpretation and data analysis. He manages numerous small and large projects involving a range of stakeholders.
We all have much to learn from each other, and the Seminar series is an important part of the intellectual life of our Institute. For updates and past seminar recordings, visit the ARI website www.ari.vic.gov.au/seminars or visit the YouTube ARI Seminars Playlist.