ARCSHS Distinguished Lecture Series: Dennis Altman
Description
The Australian Research Centre in Sex, Health and Society proudly presents:
A Distinguished Lecture Series in honour of ARCSHS 25th and La Trobe University's 50th anniversary celebrations
ARCSHS is turning 25! To celebrate we're hosting a Distinguished Lecture Series showcasing senior academics from Australia and abroad discussing contemporary issues in sexuality, health and the social dimensions of human relationships.
Please join us at the third lecture where Professor Dennis Altman will be discussing sexuality and politics in Australia over the past 40 years.
Lecture Title: 40 Years of Gay Activism
Emeritus Professor Dennis Altman AM, Professorial Fellow in Human Security, La Trobe University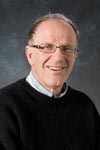 Visit the ARCSHS website for more information.