Australian Research Council Training Centre for Innovative Wine Production will focus on new and age-old challenges
About this Event
Training Centre for Innovative Wine Production to Visit Barossa
The Adelaide based Training Centre for Innovative Wine Production (TC-IWP) will be visiting Barossa on November 20 to present projects and outcomes from the centre's research to Barossa grape growers and winemakers across two broad themes; responding to environmental challenges and increasing profitability. The presentations will be beneficial for industry participants as well as the research students who get the opportunity to receive insights and 'real-life' feedback.
Hosted at Barossa Campus, Beckwith Park, presentations will be made from 9am to 12:30pm, followed by lunch and networking.
Session 1 - 9am-10:50 am will cover winemaking.
Session 2 - 11:30 - 12:30pm will cover viticulture.
Lunch will be catered by Ember Pizza at Barossa Campus.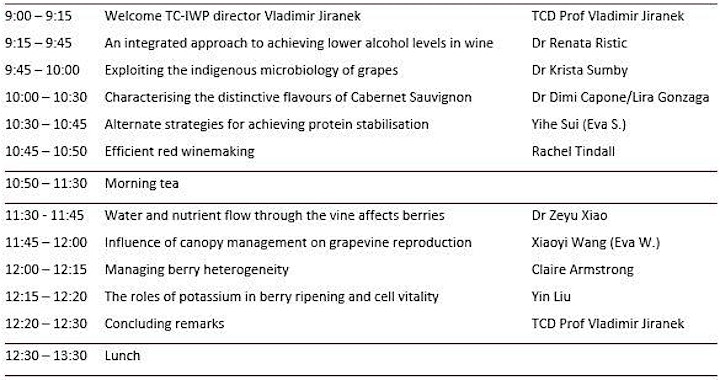 About the Training Centre for Innovative Wine Production
Through a second round of funding the Australian Research Council Training Centre for Innovative Wine Production will focus on new and age-old challenges to grape and wine production that could be divided into two broad themes: i) responding to environmental challenges and ii) increasing profitability. A number of projects will investigate viticultural issues such as planting the right material, ensuring vine field survival and performance and enhancing wine quality. Other projects will provide novel tools to tailor wine composition and increase efficiency in the winery. To address the above we have assembled an outstanding multi-disciplinary team of researchers and industry partners spanning the value chain from grape growing to wine processing, through basic and applied topics. Our team is located across two nodes: one centered at the University of Adelaide's Waite campus, which forms part of the Wine Innovation Cluster, and the second at the National Wine and Grape Industry Centre at Charles Sturt University. Outcomes from research within the Centre will build Australia's competitive edge, by sustainably boosting the wine industry's profitability and resilience to challenges, while providing excellent research training and greater innovation capacity through creative, multi-disciplinary research over five years (2018 – 2023). We aim for greater returns from existing vineyard/winery resources with lower costs and a reduced environmental impact.
Explore our research in more detail by viewing the link below:
www.ARCwinecentre.org.auThe ARC Training Centre for Innovative Wine Production is funded by the Australian Government through the Australian Research Council's Industrial Transformation Research Program (project number IC170100008). We acknowledge and thank the ARC and all of our research and industry partners for their generous support.