Description
This event is now SOLD OUT - don't be disappointed - buy your tix NOW for the next show.
EARLYBIRD Tix $18+bf online (limited available until 2am 30 April) / Standard Tix $22 online & @ The Door.
THE ONE YEAR ANNIVERSARY!!!!

To celebate the fact that "Arabian Nights at Polit" have been running sold out bellydance showcases at Polit Bar every 3 months for one whole year, we have an especially great show in store for you!

Drawing together an exotic and talented line up of belly dance artists, this colourful showcase will hypnotise and take you on an incredible journey to the Middle East.

Not one, but TWO special interstate guests! Incredible local talent and a special surprise guest who you'll need to discover on the night....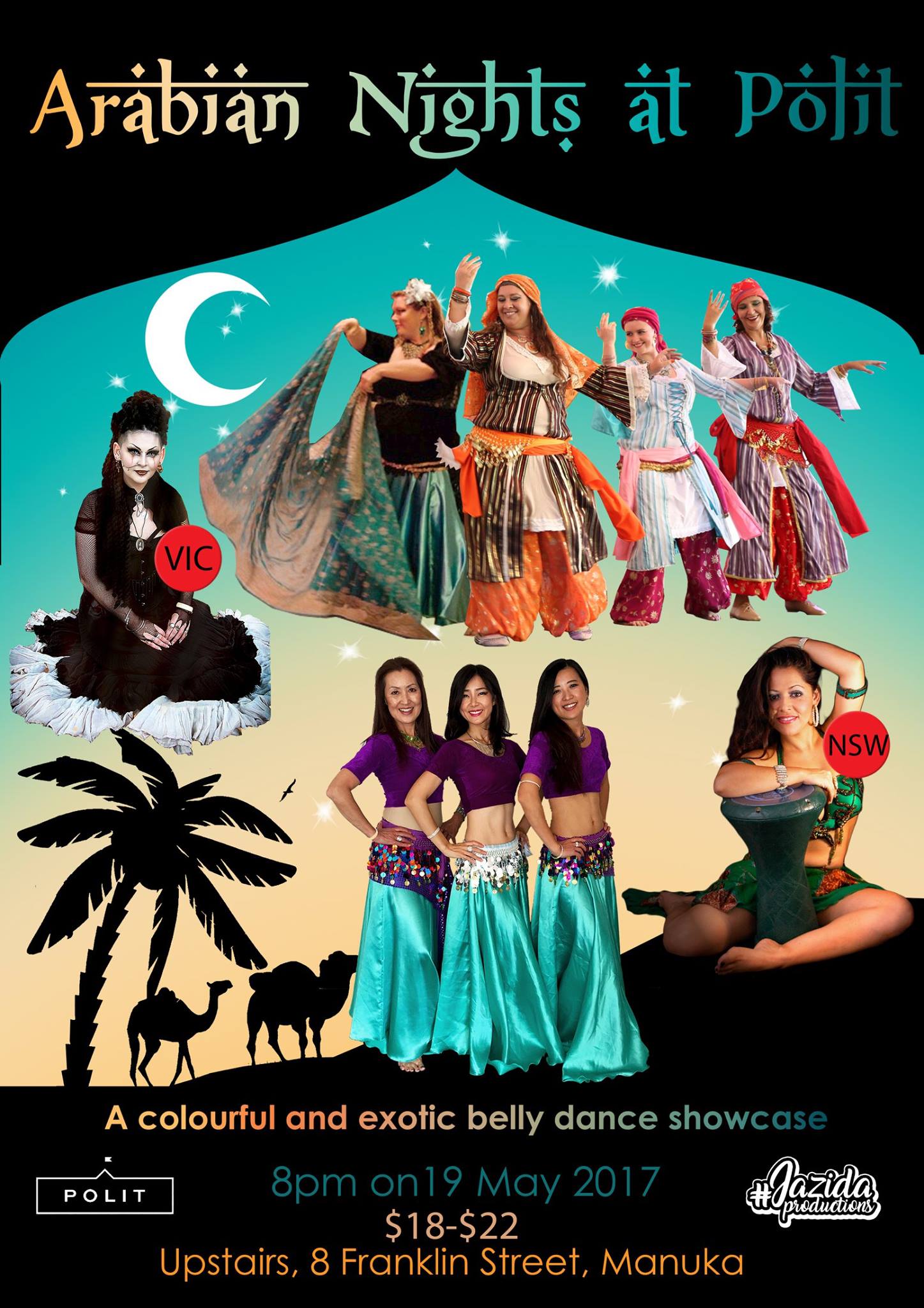 Artists performing at this event include:
~Jrisi Jusakos~ coming fom SYDNEY
Jrisi is one of Australia's most recognised and influential oriental dance artists. With extensive experience in cross cultural and traditional dance forms, she has carved out a unique style that is both captivating and recognisable. She is the artistic director and creator of Hathor Dance Theatre, a sought-after master teacher, performer, producer, choreographer and international sponsor.

~Toria Tumbleweed~ coming from MELBOURNE
Toria is a dark, alternative and gothic goddess. Well versed in industrial fusion - her pops, locks and grace will have you transfixed! She is also an acclaimed make up artists (and youtube sensation) and she will memerise you with her incredible aesthetic attention to detail!

~Tabla Bellydace~
TABLA bellydance performs a high energy combination of Egyptian Gypsy, Folkloric Baladi and Folkloric-Fusion dance. Their choreographed and improvised dances, performed to live drumming and pre-recorded music, are engaging and inspiring. Firmly grounded in traditional bellydance, TABLA dwells in the beat of the drum, evoking the proud, earthy and provocative spirit of the Ghawazee.

~Tomomi, Yuko and Misako~
Students of the Bedazzled Bellydance School, these beautiful Japanese ladies have been catching eyes for a long time because they really are something very special! It's an honour to be bringing them in to the show as the birhgt stars/student spotlight!!

~Rachel Reid~
Your emcee for the evening! Rachel launched Arabian Nights at Polit and has been loving every second of putting these shows on for you! Passionate about sharing local talent and bringing interstate guests, you can keep up with all her events by checking out #jazidaproductions

To help further submerge yourself in the theme, Polit are offering a range of food and drink specials including a shared nibbles board (with a mezze mix, dips, Turkish bread, dips and zucchini balls), and Polit Turk and Sparkly Turk turkish delight themed cocktails and mocktails.

In association with this event, check out the incredible workshops being run by our interstate guests!
Jrisi will be teaching a bellydance intensive workshop on 20 May at KMotion Studio
Toria will be teaching a dark, dramatic and alternative make up for stage workshop on 21 May at the Canberra Dance Theater! Stay tuned for more information!

For any enquiries, please email jazidaproductions@gmail.com