Description
EARLYBIRD Tix $18+bf online (limited available) / Standard Tix $22 online & @ The Door.
Drawing together an exotic and talented line up of belly dance artists, this colourful showcase will hypnotise and take you on an incredible journey to the Middle East.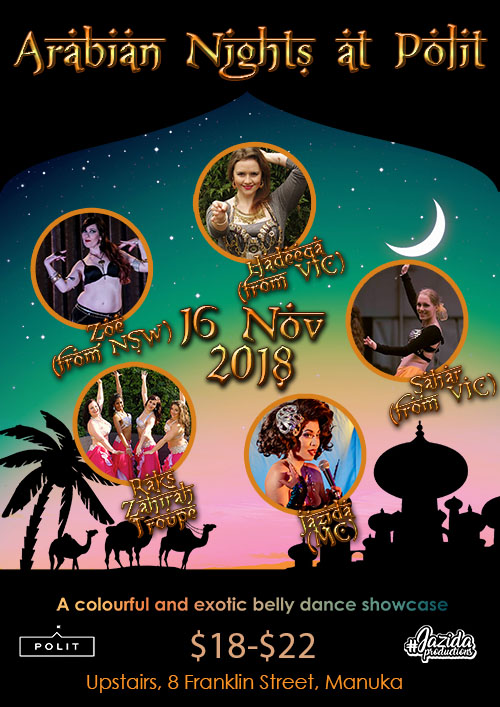 Featuring local and interstate artists:
>Zoe (special interstate guest from Newcastle)
>Hadeeqa (special interstate guest from Melbourne)
>Raks Zahira (Canberra's premiere professional bellydance troupe)
>Sahar (special interstate guest from Melbourne)
Zoë fell into her first bellydance class in 2002, thanks to the (gentle) coersion from her dearest friend. Zoë's first teacher, Angelina of Sahira Bellydance lured Zoë swiftly, with the beauty and femininity of Oriental and Egyptian styles. There are definite glimpses of Zoë's original dance roots in her fusion bellydance stylings.
Zoë graces stages in Australian festivals and local events. If you witness Zoë's performances or choreographies you will see the unique blend of strong, subtle and creative fusion technique with oriental flair. Zoë blends fusion bellydance with modern, alluring beats.
Raks Zahirah is a professional Middle Eastern performance troupe that provides tasteful and elegant entertainment in a range of modern and folkloric bellydance styles from Turkey and Egypt.
Founded in 2013 by accomplished and sought after performers, Kirsty Duncan and Jacqui Princi, Raks Zahirah provides a new standard in bellydance entertainment to the Canberra region.
Raks Zahirah know the key to holding on audience from start to finish is engagement, variety and flair. With stunning professional costumes direct from the Middle East and personality to boot, the girls are also accomplished in dancing with a range of props including veils, isis wings, silk fans, zills (finger symbols), stick (cane) and swords.
Hadeeqa is an an exceptional dancer. Dancing with Ghawazee Moon since 2006 and later becoming a teacher there, her passion for bellydance is grounded in the folkloric mode, and has led her to experiment with great skill in intricate dubstep fusion stylings. Her performance invites audiences into her world as she bares her soul to the rhythm.
Dancing for many years in Canberra before moving to Melbourne, Sahar performs in fusion dancing grounded in folkloric and inspired by the ghawazee.
For any enquiries, please email jazidaproductions@gmail.com