Description
Tix @ the door when online sales close 6pm.
EARLYBIRD Tix $18+bf online (limited available) / Standard Tix $22 online & @ The Door.
Drawing together an exotic and talented line up of belly dance artists, this colourful showcase will hypnotise and take you on an incredible journey to the Middle East.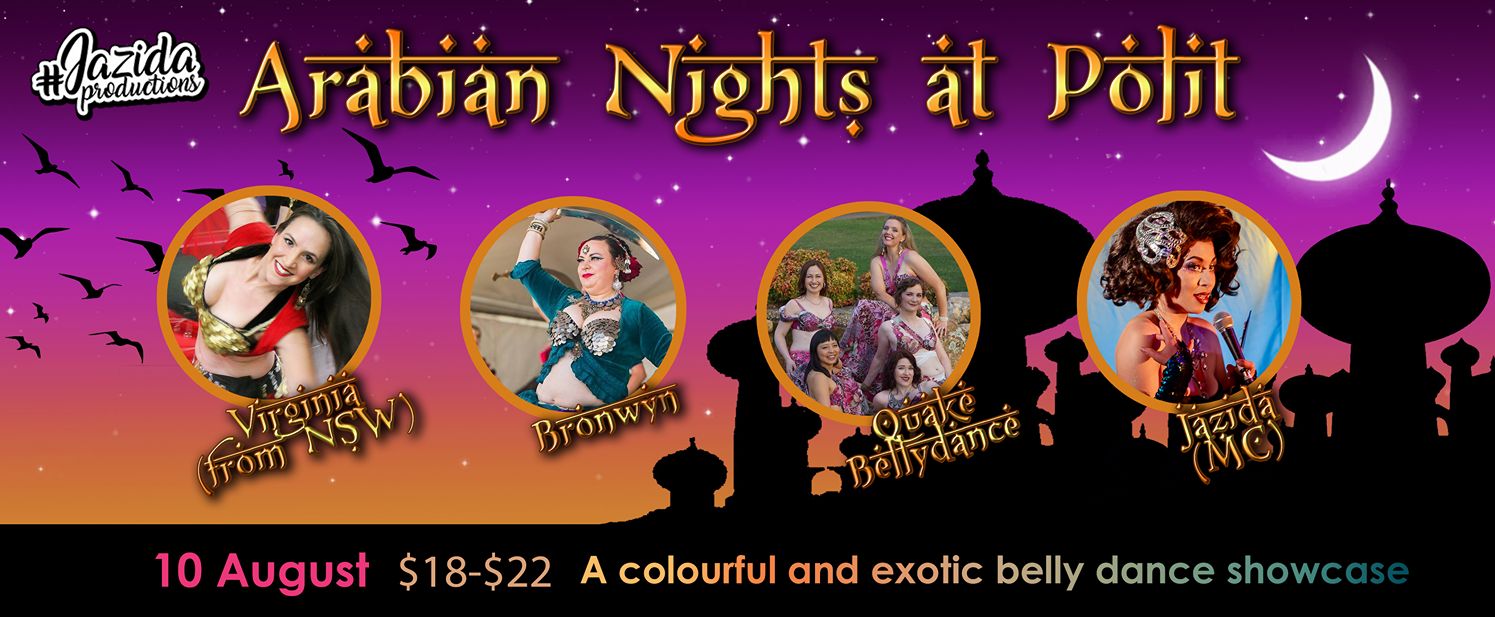 Featuring local and interstate artists
>>>Virginia Keft (from Wollongong)<<
Virginia Keft is the artistic director and principal of Cinnamon Twist Belly Dance, Wollongong's premier centre for the study of traditional Middle Eastern dance and contemporary belly dance. Virginia is an experienced and dynamic performer and a sought-after instructor in her field. She is well known for her diverse repertoire, fluency of style, and charismatic stage presence. Inspired by both the practical and theoretical aspects of the dance, Virginia has dedicated the last 20 years to the study, performance, and teaching of belly dance both nationally and internationally. She holds a PhD from the University of Wollongong and regularly presents her research on dance in Australia and abroad. She is the founding Director and Principal of Cinnamon Twist Belly Dance Troupe as well as the internationally acclaimed biennial event, Wollongong Belly Dance Festival.
Virginia has published numerous works on the history, culture and representation of Middle Eastern Dance and is widely known for her outstanding stage productions and festivals. In July 2018 Virginia will teach workshops and present her work at the prestigious International Dance Council's World Congress on Dance in Athens, Greece.
>>Bronwen (founding member of Buasavanh Bellydance Troupe)<<
Bronwyn began belly dancing in 1997, teaching from 1999. From 2001-2005 she taught and performed in Southeast Asia. Since returning to Canberra she has taught traditional Egyptian folk dance, as well as studying, performing and teaching Tribal Style Bellydance with the Tribalista Sistas and Buasavanh.
>>Quake Bellydance Troupe<<
Canberra bellydance troupe, featured often at local and regional festivals and markets, and available for various functions including hen's nights, anniversaries and birthdays. They are are known for their colourful, energetic performances, and spectacular costumes.
Quake's bellydance style is best described as "cosmopolitan" – mixing Western pop and disco with traditional and modern Arabic music, adding plenty of humour and drama to create an unexpected dance experience for our audience and a lot of fun for ourselves.
>>Jazida (as your MC)<<
Mischief maker and producer of the show, this mistress of ceremonies will guide you through the evening.
For any enquiries, please email jazidaproductions@gmail.com