Description
Thursday 20th - Friday 21st September 2018
ANZSWWER Symposium 'Disruptive Social Work'
The annual ANZSWWER symposium will be hosted by Flinders University, SA.
The overarching theme of this year's symposium is 'Disruptive Social Work', and we look forward to robust discussion around your interpretation of this in relation to social work and welfare education and research. The 2018 Symposium will be held on 20-21st September 2018, and the National Social Work Field Education Networking Day on 19th September 2018.
These events provide the opportunity for Social Work and Social Welfare workers to hear about the latest research, education and practice experience in Social Work and Social Welfare. In addition for all those directly involved in Social Work Field Education student placements there is a one day National Field Education Network meeting which brings together national field education academics, field educator coordinators and student supervisors.
Preparations for the symposium are in full swing and we look forward to bringing you further details as they unfold. Visit our Website for more information.

We can let you know the symposium will be held over the two full days and include;
Keynote presentations

Concurrent sessions across sub-themes

Networking opportunities & a social dinner event
Morning tea, lunch and afternoon tea will be provided each day
Wednesday 19th September 2018
Field Education Networking Day
Flinders University, SA will be hosting the National Field Education Network (Australia) Day.
We are looking forward to our National Field Education Networking Day, with some exciting presentations, issues, ideas and potential collaborations to discuss.
This day precedes the ANZSWWER symposium on 20th & 21st September.
Morning tea, lunch and afternoon tea will be provided
Event Dinner on 20th September 2018
An Event Dinner will be hosted on Thursday 20th September 2018. You will find tickets available separately within the ticket options.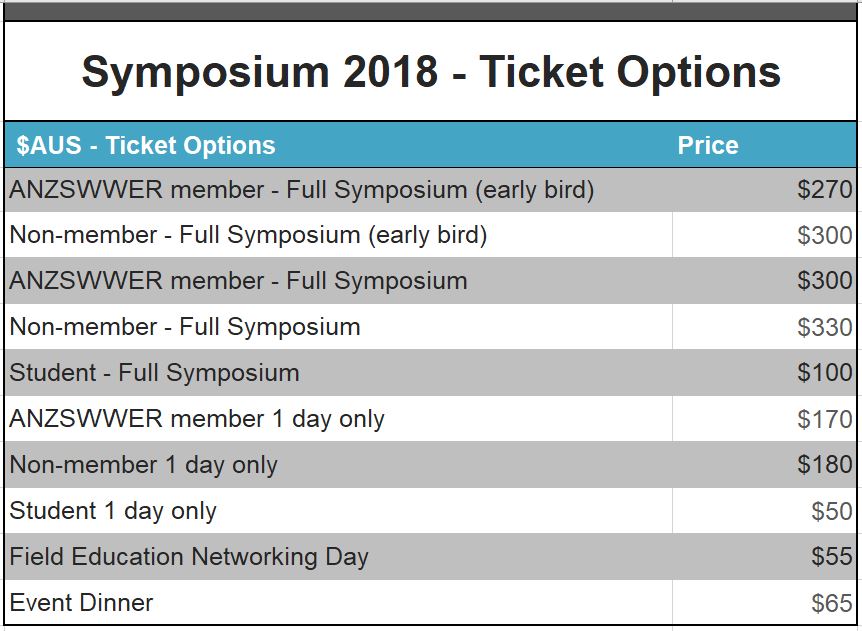 Refunds Disclaimer:
Due to costs associated with running this event, refunds will only be issued up until the 31st August 2018, and will attract a 20% administration fee. Refunds will unfortunately be unavailable after this date. While all information was correct at the time of writing, ANZSWWER reserves the right to change the symposium speakers and format if necessary. In the event such changes are required, ANZSWWER will notify all registrants.