Description
REGISTRATION FOR THIS EVENT CLOSES MONDAY 28 AUGUST AT 6PM.
Please email sa.president@anzspd.org.au if you have any queries

"A Safari of Paediatric Dentistry" brings together a wealth of talent and experience for clinicians including oral health therapists, dentists and specialists to tackle Paediatric Dentistry. ANZSPD (SA Branch) is excited with the complement of speakers including Keynote speaker, Professor Lars Andersson and Guest speakers, Associate Professor James Lucas, Associate Professor Sam Gue, Associate Professor Giampiero Rossi-Fedele, Dr Michael Malandris, Dr Thu Kent, Ms Kate King and Dr Marie Reichstein. These world-renown speakers will convene in Adelaide for this wonderful opportunity for the dental profession.
The two days have been carefully crafted to include recent advancements of dental traumatology, with a primary focus on clinical applications; as well as current popular topics of Paediatric Dentistry. Different aspects of frequently encountered Paediatric Dentistry issues will be illustrated, enabling you to approach these topics from multi-disciplinary perspectives
We invite you to be involved in this special seminar and know that you will update your knowledge and deepen your expertise to help manage many aspects of Paediatric Dentistry.
Key objectives:
Evaluating the recent advancements of traumatic oral injuries

Understanding the clinical management of tooth avulsion and replantation

Diagnosing tooth ankylosis and identifying the potential consequences and management options, including for tooth losses in the anterior maxilla in the growing patient

Identification of tongue ties and upper lip ties and understanding what management options are available

Describing the advantages, disadvantages, indications, contraindications of aesthetic crowns in primary teeth; and understanding how to use them

Discussing the treatment challenges related to hypomineralised molars and understanding how to plan for short and longer term options from multi-disciplinary perspectives

Understanding the challenges of managing children with salivary dysfunction

Discussing the importance of diet and oral biofilm on the development of dental caries
---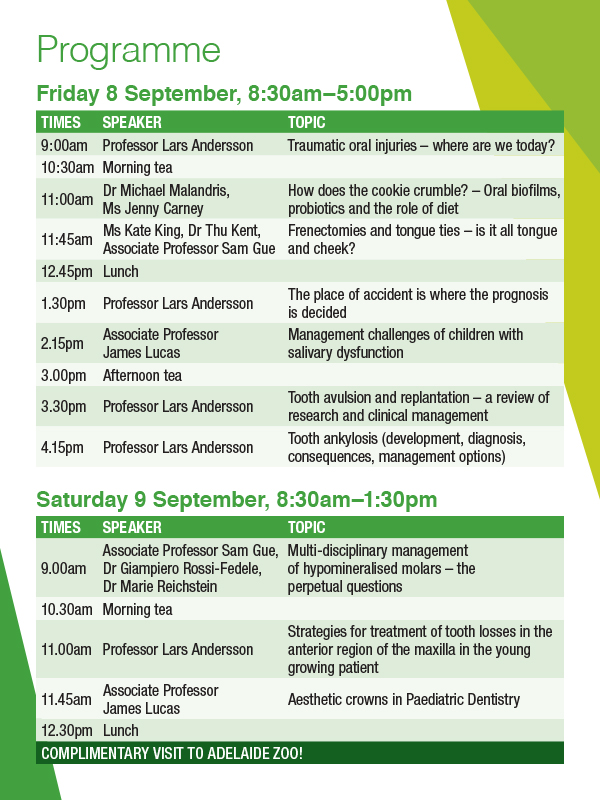 ---
FAQs
How can I contact the organiser with any questions?
Please email sa.president@anzspd.org.au if you have any queries.
Can I update my registration information?
Yes, please email sa.president@anzspd.org.au if you need to update your registration information.
What are my transport/parking options for getting to and from the event?
Please note that due to O'Bahn extension construction works, from 10 April 2016 all right-hand turns at the Botanic Rd, Hackney Rd, Dequetteville Tce and North Tce intersection will be restricted.
Access to Plane Tree Drive to park and visit the Zoo is still available if travelling north, south or along Hackney Rd, but right hand turns onto Hackney Rd when departing Plane Tree Drive are no longer available.
Car
Limited metered ticket parking is available on Plane Tree Drive, War Memorial Drive and Frome Road. All metered parking is operated by either Adelaide Botanic Gardens or Adelaide City Council. There is no parking available on the grounds of Adelaide Zoo.
Bus
Buses stop on Frome Road directly outside the zoo (Bus number 271 or 273 from Currie Street). Visit Adelaide Metro for more details.
The half-hourly Connector Bus passes the Adelaide Oval and many of the UPark carparks in the city.
Bike
Free bike racks are provided within the entry precinct, just outside the Santos Conservation Centre. Best routes to Adelaide Zoo include the Torrens Linear Park and cycle paths along all major arterial roads.
Refund Policy
Refund can be arranged if requested more than 14 days prior to the event less $30 processing fees.