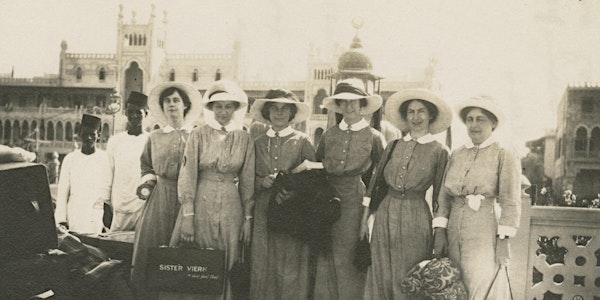 Anzac Square Memorial Galleries Talk Series: Australian nurses' stories
Location
Anzac Square Memorial Galleries
ANZAC Square
Brisbane City, QLD 4000
Australia
Back by popular demand, join us at Anzac Square Memorial Galleries for a free talk ahead of International Women's Day.
About this event
On the battlefield, and during wartime service, the core characteristics of the nursing profession are called upon: compassion, professionalism and courage.
Back by popular demand, join us at Anzac Square Memorial Galleries for a free talk ahead of International Women's Day, exploring the remarkable true stories of Australian nurses who rose to the occasion during World Wars I & II, including:
Sister Constance Mabel Keys, who sailed with the first troop convoy to Egypt in September 1914, and went on to serve in Cairo, Britain, and the Western Front before returning to Australia in November 1919
the dedicated nurses of World War I and the many awards they received for exemplary service
the resilient World War II nurses who survived the sinking of the evacuation ship Vyner Brooke ... only to spend three-and-a-half years as prisoners of war on Bangka Island and in Sumatra
those who lost their lives when the hospital ship Centaur was torpedoed and sunk off the coast of Moreton Island
This talk series draws from State Library's digital collection of military stories, diaries, letters, photographs and artefacts.
After the talk, visitors can stay to explore the Memorial Galleries - embarking on an interactive journey from the First World War to today, before taking time to reflect on the remarkable stories of bravery and sacrifice in the tranquil parklands.
Anzac Square Memorial Galleries is located at 285 Ann Street, Brisbane. Entry is through the double brass doors located beneath the Shrine of Remembrance.
Subscribe to be the first to know about our future events.
Please consult our conditions of entry before making your booking.
We respect your privacy. Personal information we collect is used only for our internal activities and functions (Libraries Act 1988 (Qld)) and will not be disclosed unless required by law. For more information, please read State Library's privacy statement.
The views expressed by the speakers are their own and the promotion of products/services is not endorsed by State Library.
State Library films, records and photographs events for use in marketing and communications. If you do not wish to be filmed, recorded or photographed please advise staff upon your arrival.
Important COVID-19 information
In line with the Queensland Government's COVID-19 restrictions, from 17 December 2021 unvaccinated people aged 16 years and over will be unable to enter Queensland Government-owned libraries, galleries and museums. This includes Anzac Square Memorial Galleries.
We will continue following Queensland Government advice. Given the public health directions are subject to change, please check our alerts page before your visit for the latest information.