Description
Antimicrobial resistance outside the hospital walls: Understanding environmental hotspots, drivers, and risks.
Bacteria, viruses and parasites - microorganisms - can be found everywhere, in our environments and inside our bodies. Many are harmless and beneficial for our health, but some can cause disease.
Although antimicrobial drugs such as antibiotics have been very effective in controlling disease, frequent use and misuse has led to some pathogens becoming resistant. These pathogens are commonly called superbugs.
Superbugs are becoming increasingly common worldwide and are causing a range of illnesses that are extremely difficult to treat. The World Health Organization has declared antimicrobial resistance (AMR) a global health emergency and has called upon nations worldwide to urgently address and manage this issue.
While AMR is most commonly discussed in the context of hospitals and animal health, it is also considered an environmental contamination issue. Antimicrobial agents, antimicrobial resistant organisms, and antimicrobial resistance genes are all considered to be environmental contaminants.
For this Environmental Science Seminar Series event, Associate Professor Erica Donner will share her research on this topic about:
health effects
the current state of knowledge in key environments

what we can do to assist in preventing the further development and spread of AMR.



Event times:
Live audience: 12:00pm - 2:00pm
Live-streaming: 12:30pm - 2:00pm
Associate Professor Erica Donner

Associate Professor Erica Donner is an environmental scientist who specialises in environmental chemistry and microbiology. Her research provides a fundamental basis for environmental risk assessment and management, and she works across a range of interdisciplinary research topics ranging from the transport, fate and effects of environmental contaminants, to wastewater treatment and reuse, and the beneficial use and optimisation of treated waste products.
Associate Professor Donner leads an international collaboration project on antimicrobial resistance in wastewater treatment plans and downstream environments. She is a member of the European COST Action ES1403 Working Group on the 'Microbiome and mobile antibiotic resistome in treated wastewater and downstream environments' and is Deputy Chair of the Wastewater and Water Environments Working Group for the international JPI AMR 'WAWES' network: "Wildlife, Agricultural soils, Water environments and antimicrobial resistance - what is known, needed and feasible for global Environmental Surveillance".
Dr Andrea Hinwood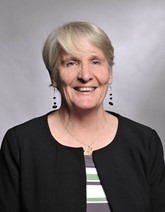 Dr Andrea Hinwood was appointed as Victoria's first Chief Environmental Scientist in 2017.
Dr Hinwood is an accomplished environmental scientist with specialist expertise in environmental exposures and human health.
Dr Hinwood was previously an Associate Professor at Edith Cowan University and held appointments as a member and Deputy Chair of the Environmental Protection Authority of Western Australia and a sessional member of the State Administrative Tribunal of Western Australia.
EPA's Environmental Science Seminar Series
The Environmental Science Seminar Series are free public events addressing issues which affect the environment of Melbourne and Victoria. Each event explores how science is, or can be, used to reduce the impact of these issues. Guest speakers provide insights into environmental science topics such as air quality, the impact of urban green areas, transport, planning, noise and water quality. All events are livestreamed.