Anthill Magazine Cool Company Awards 2017

Thursday, February 22, 2018 from 6:00 PM to 9:00 PM (AEDT)
Event Details
The Cool Company Awards is a fun way to celebrate the achievements of your organisation alongside like-minded business builders.

WHEN: 6pm - 9pm, Thursday 22 February 2018
WHERE: Masque Bar, 19 Park Street, South Melbourne VIC 3205
DRESS: Like you do, with a touch of CIRCUS CARNIVAL.
(That's our theme. Because entrepreneurs are great jugglers! Boom-cha!)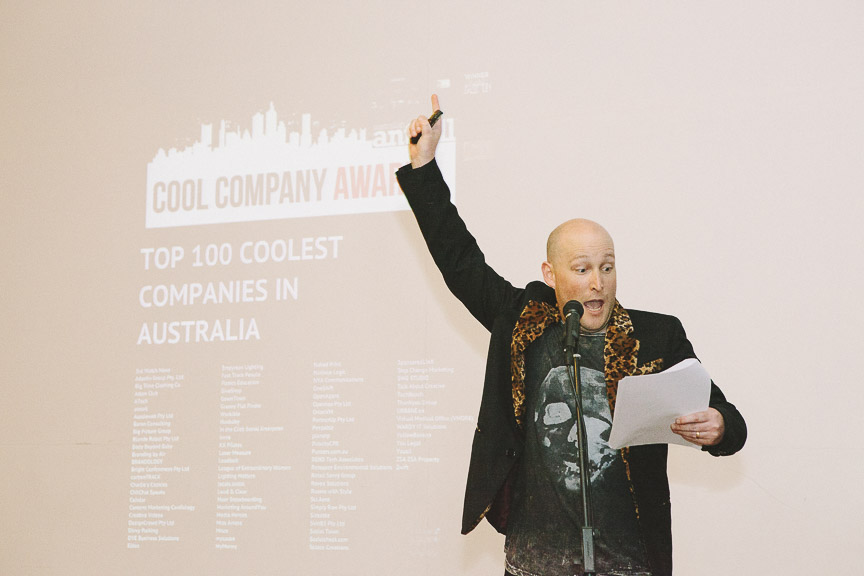 Building something great can be a hard slog.
But never forget that business can and SHOULD be fun.
When you're given a break, run with it.
When you earn a win, celebrate it.
When the universe plants a rockin' beat on the turntable of your life, dance like EVERYONE is watching. (Shout your achievements from the roof-tops.)

Celebrate your awesomely cool organisation with other like-minded business builders for an underwater themed evening of fun, revelry and escapades.
TOP 100 SHORTLISTED BY ALPHABETICAL ORDER
10x10philanthropy.com
Affiliate Finance & Property
Amplify
Arize Communications
Arlo & Co
Aroma Co Aromatherapy Jewellery
Atelier Wealth
Austockphoto
AutoGuru Australia Pty Ltd
Basiq
Beach Lane
Because Experiential Marketing Australasia
Bench
BigCommerce
Briometrix
Cashrewards
Clariti Group
Clipchamp
Collabosaurus
Creative Brew
DigitalMaas
ELMO Software Limited
EMBR Group
EVERGEN PTY LIMITED
Fifty Acres
finder.com.au
Future Directors Institute
Golden Grind
Hancock Creative Pty Ltd
Heritage Accessories Pty Ltd t/a Buckle | 1922
Hot Black Pty Ltd
Illumin8
Industry Placements Australia
Inspire
Kimberlin Education
King Kong
KJR Australia
Leadbolt
Learner Library
Linkfluencer Pty Ltd
Liquid Infusion
Luxury Escapes
Marquette Intellectual Property Pty Ltd
MNF Group
Mobecom Limited
Mobilia Group
MoneyMe Financial Group
myEd Online
MySail Pty Ltd
Next Science
Once by Laming Property
Popupshopup
Pronto Woven
Prosper Education
Purplesoft Technology Pty Ltd
Purposeful
QLD Food Bank
Quiip
Robokids
Rubber Cuppy
SalesFix
she wear
Sidekicker
SignManager
SMLXL Projects
Soak Society
Soar Aviation
Spacecubed
Spark Strategy
SponsoredLinX
Street Basketball Association
Student Wow Card
Tailor Projects Pty Ltd
The Atticism
The Mentor List
The Mothers Den
The Room Xchange
The Van Diemen Project
TheirCare
theright.fit
Training SpaceFinder
Virtual Legal
Visual Amplifiers - Vamp
Vollardian
WARDY IT Solutions
Whispli
WINK Models
Zimrii Music
See you on 22 February 2018!
When & Where

Masque Bar
19 Park Street
South Melbourne, VIC 3205
Australia

Thursday, February 22, 2018 from 6:00 PM to 9:00 PM (AEDT)
Add to my calendar
Organizer
Anthill is one of Australia's largest online communities for innovators, entrepreneurs and business owners. It's a fun and colourful source of news and tools. It's home to inspiring awards. It's a shop for business builders. Check it out and join the Anthill Army. Visit: http://anthillonline.com/