Description


+++++++++++++++++++++++++++++
* FOOD & RUM TASTING - FIRST COME, FIRST SERVED
* THIS IS AN ECO FRIENDLY SUSTAINABLE EVENT
* THIS EVENT IS ENCOURAGING LOCAL PRODUCTS
* LIMITED CAPACITY
* NO EFTPOS MACHINE ON LOCATION
+++++++++++++++++++++++++++++


DISCOVER HAITI WITHOUT LEAVING SYDNEY!
COME AND ENJOY A UNIQUE EXPERIENCE!
By popular demand, Haitian French Canadian singer Athésia is organising her third annual Haitian party in Sydney. Come and discover the aromas of Haitian music and dance on the rhythms of Compas, Mini Jazz, Twoubadou, Zouk and Meringue to name a few. Learn how to prepare a Haitian cocktail and taste delicious Haitian Cuisine cooked by Athésia. (Menu below).
Athésia invites the public to an intimate and enchanting afternoon. A true unique experience! Singing Haitian Creole songs and her own compostions from her latest albums "Athésia & The Gentlemen". She will be joined by talented musicians: Michael Coggins (Guitar), Tina Harris (Bass), Paul Chenard (Sax) and Alysa Portelli (Percussion/Drums). This is probably the only Haitian Party open to the public in Australia, an experience not to be missed!
Come and enjoy an intimate atmosphere on Sunday 27th of October 2019 at The Randwick Mansion, located 5 min walking distance from Coles Express petrol station.
We encourage all attendees to bring their own alcohol and reusable bowl/plate, utensils, shooter glass, etc. Guests who brings the reusable items above will be provided free food & rum tasting. * First come, first served until end of stock.
Doors open at 12:30 pm and the live performance starts at 1:30pm.
12:30pm Door open (Haitian food cooked by Athésia)

1:30pm Performance of Athésia (1h)

3:30pm How to concoct a Haitian Ti-Punch

4pm End of event

* KID-FRIENDLY EVENT (FREE FOR KIDS)
* BYO DRINKS
* BYOBottle
* THIS IS AN ECO FRIENDLY SUSTAINABLE EVENT
GET YOUR REAL HAITIAN FOOD!
Come at 12:30pm to discover mama Athésia's homemade Haitian cooking.
Menu ► Accra, Banane Pesé, Riz collé, Haitian Legumes, Salades (Vegeterian)
* Allergen information (below)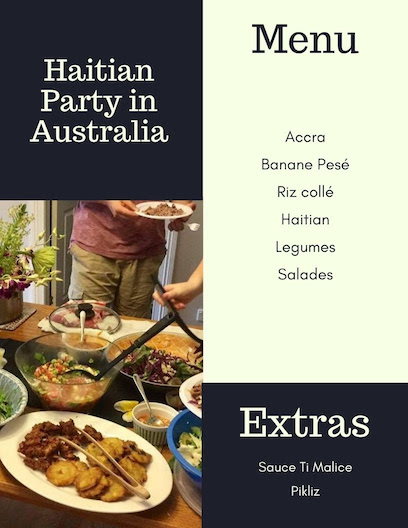 AUSTRALIAN AGRICOLE RUM TASTING & TI-PUNCH
Haitian rum is delightful but hard to find in Australia. As a rum lover and embracing the Sydney Rum Club, Husk Distillers discovery is the perfect match to create the Haitian Cocktail Ti-Punch. Husk Distillers is Australia's first & only agricole rum distillery, making paddock to bottle craft rum using sugar cane grown 100% at Husk Farm. Using sustainable, full circle distilling practises and combining new and old world techniques, Husk creates premium sipping quality spirits which reflect the provenance of the NSW North Coast.
FOOD SOURCED FROM LOCAL FARMERS
Haitian food requires specific ingredients that are not easily find in Australia such as plantain bananas, scotch bonnet peppers, etc. Luckily, Paddy's Fresh Food on Saturday's (flemington markets) has most of the products needed. For over 150 years they have offered the largest and freshest range of fruit and vegetables. Paddy's Fresh Food Saturday is a market that is filled with passionate growers who love their produce and are passionate about giving their customers the best quality at a great price.
CAN I RESERVE A TABLE OR SEATS?
The Randwich Mansion was rented for the event. It's only a venue and not a restaurant. Athésia will be cooking some delicious Haitian food that will be available starting at 12:30pm. Please take note that they are no reserved tables nor allocated seating. First come, first served. It's a party where you will be able to mingle, eat, drink, dance and have fun whilst listening to some haitian music with a live show. We encourage all attendees to bring their own alcohol and reusable bowl/plate, utensils, shooter glass, etc. Guests who brings the reusable items above will be provided free food & rum tasting. First come, first served until we run out.
AT WHAT TIME SHOULD I ARRIVE?
The sooner the better, come and eat, drink, mingle, dance and watch a live show! This will be a hot event! Tickets are limited so book now!


SECRET LOCATION (Released to ticket holders via email)
Venue details and party information will be emailed to all ticket holders before 4pm on the day before the event.
Only 5 minutes walking distance from Coles Express,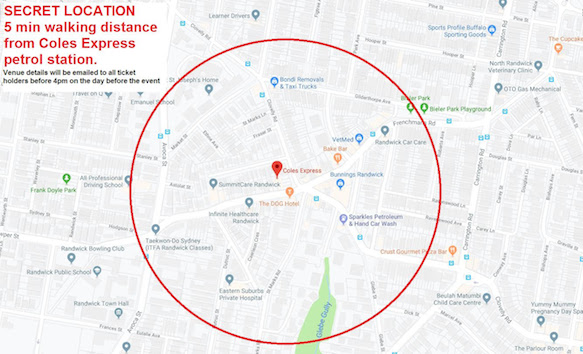 Share event link ► https://bit.ly/2nd0AAc

FB event link ► https://www.facebook.com/events/454104985204957

Eastside Radio 89.7fm Article: ►
ATHÉSIA + SOCIAL MEDIA
Athésia is an international singer-songwriter, the only one in Australia specialising in Haitian music. Born in Montreal to Haitian parents. Athésia is of French, Spanish and Taino descent (indigenous from the Caribbean). Athésia has performed in the past in Brazil, Peru, Argentina, Haiti, USA, Sri Lanka and China. In July 2019, Athésia performed at City Recital Hall during Ears to the Ground with a sould out concert! In March 2017, Athésia was invited by the Consulate of Canada to sing in Vietnam during the celebration of La Francophonie. Music lovers all over the world recognise that this talented singer-songwriter is very charismatic and has a mesmerising presence on stage.
Facebook: www.facebook.com/AthesiaMusic
Spotify: https://open.spotify.com/artist/2Yp3A0OPQvZHp6DxU6gcAR

Youtube: www.youtube.com/AthesiaMusic
Soundcloud: www.soundcloud.com/AthesiaMusic
Flickr: www.flickr.com/AthesiaMusic
Twitter: www.twitter.com/AthesiaMusic
Website: www.AthesiaMusic.com
Instagram: www.instagram.com/AthesiaMusic
Hashtag: #Athesia #AthesiaMusic #AthesiaSinger
+++++++++++++++++++++++++++++++++++++++
ALLERGEN INFORMATION: The food is cooked in a facility that processes other products which may contain soy, dairy, wheat, tree nuts, shellfish, fish, peanuts and eggs and may contain traces of all of the above.
+++++++++++++++++++++++++++++++++++++++


Please note all tickets are non-refundable, non-transferable nor redeemable for cash.
+++++++++++++++++++++++++++++++++++
NO MORE TICKETS?
TICKETS MIGHT BE AVAILABLE AT THE DOOR
+++++++++++++++++++++++++++++++++++