Australian author Annie Seaton joins us online to discuss her new book Osprey Reef
About this event
About Osprey Reef
2019: Bethany Kristensen faces her toughest challenge to date, skippering the family charter business. With rivals doing their utmost to undercut her prices and reputation, the Kristensens' operation hangs by a thread. Winning the tender for a new scientific research program headed out to the farthest edge of the reef is her last chance to keep the business going. But when rumour and vandalism turn to outright sabotage, things take a drastic turn...
1934: Stella Booth flees a future of domestic drudgery in small-town outback Queensland, heading for employment and an independent life in Mackay. But fate has other plans and an accident en route sends her life spinning in a most unexpected direction...
Linked by a family mystery, decades apart, Bethany and Stella will both need to dig deeper than ever before to forge their place among the turbulent seas of the reef.
Australian author Annie Seaton applies her passion for conservation of our iconic landscape to a compelling mystery and family saga of belonging.
Proof of double vaccination is required for participants aged over 18 years to attend this event and will need to be shown to staff on the day. COVIDSafe guidelines will be followed to ensure public safety.
Please carefully read the event information on your ticket for terms and conditions of attendance.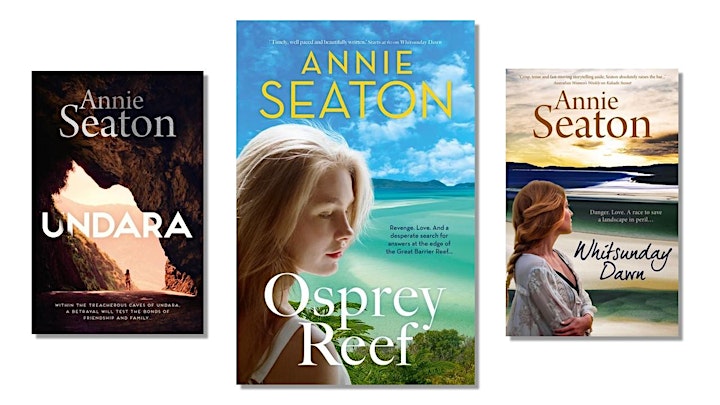 ANNIE SEATON lives near the beach on the mid-north coast of New South Wales. Her career and studies have spanned the education sector for most of her working life, including a Master's degree in education and working as an academic research librarian, a high school principal and a university tutor until she took early retirement and fulfilled a lifelong dream of a full-time writing career. Annie's books have been very well received and she has won several awards, including Book of the Year, Ausrom Readers' Choice Awards 2018, for Whitsunday Dawn, which was also a finalist for ARRA romantic suspense. Annie has been a finalist in the New Zealand KORU award in 2018 and 2020, and was a finalist for Book of the Year, Long Romance, for Kakadu Sunset, at the Romance Writers of Australia Ruby Awards in 2016. Annie has four times been longlisted for the Sisters in Crime Davitt Awards.
Each winter, Annie and her husband leave the beach to roam the remote areas of Australia for story ideas and research. She is passionate about preserving the beauty of the Australian landscape and respecting the traditional ownership of the land. For those readers who cannot experience this journey personally, Annie seeks to portray the natural beauty of the Australian environment - its spiritual locations, stunning landscapes and unique wildlife.
Readers can contact Annie through her website, annieseaton.net or find her on Facebook, Twitter and Instagram.
This Library program/event is being administered by Wyndham City Council using an event booking platform provided by a third party, EventBrite. Any personal information you submit when registering will be stored and processed by EventBrite in accordance with its Privacy Policy. Please note that EventBrite is a US based organisation, and your data will be held in US servers located outside of Australia. By registering for the program/event, you are agreeing to EventBrite's Privacy Policy.