Enjoy the healing meditative sound of the Japanese sound bowl Singing Ring®, and the Crystal Alchemy bowls and Crystal Didgeridoo.
About this event
:-:-:-:-:-:-:-:-:-:-:-:-:-:-:-:-:-:-:-:-:-:-:-:-:-:-:-:-:-:
Bring peace and harmony into your lives with this simple modality.
4th Saturdays Angelic Sound Meditation
23/10/2021 "Healing Time for your new future"
:-:-:-:-:-:-:-:-:-:-:-:-:-:-:-:-:-:-:-:-:-:-:-:-:-:-:-:-:-:
*日本語は下にあります。
The theme of November Meditation is "Tune in the higher spirits ".
We feature the collaboration of the sound of Crystal didgeridoo, Crystal Alchemy bowls and Singing Ring sound bowls.
Our guests are Kerry Henwood and Karen List.
Kerry Henwood is a master shaman, teacher, intuitive, and spiritual healer who has practiced shamanism for more than 40 years. Renowned for her synthesis of ancient wisdom and modern sacred technology, Henwood divides her time between the California desert and her native Australia. On the night she will play two Crystal didgeridoos for us and also shamanic pray and the tools from the nature world.
Kerry is also an author of a book " The Weavers of Light ". You can get her book ( $20) on the night with her sign. :)
Karen List is Sound Healer at Soul Soundscape and works for Coach and Mentor at Speakers Institute and Coach and Mentor at Find Your Voice.
On the night she will play many beautiful Crystal Alchemy bowls for us and the binaural sound will be gorgeous effects.
Toshiko has been playing Singing Ring for 11 years now. She loves this harmonic overtones and its subtle vibration to keep her good balance on her life and also peace in her mind. You will feel it on this event.
We will be pure and light for bringing the universal Love energy.
Please come and feel how deep you could get into the meditative state with lovely harmonic overtones by the sound of their collaboration.
Then you might tune in your higher spirits during the session and get your hope for your future and what you love to do in this world or how you want to be from now on.
You are not only listening to the sound in this event, but you also have some direct frequencies and vibrational massage on your body with Singing Ring®︎as usual by Toshiko and her friends.
We will take you to the deep journey to the higher awareness.
You might be surprised the difference before and after.
[Date & Time]
27 November 2021 (Sat)
7:00 pm Start (Door Open 6:40pm)
Please Make sure to allow enough time to settle in.
8:30 pm finish
Tea & snacks will be served afterwards
[Place]
Mudgeeraba Foundation Centre
(7 School St, Mudgeeraba)
[Ticket price]
Pre-sale Ticket at Eventbrite: $30 +System Fee
At door: $35 (cash only) if we are still available space .....
[What to bring]
Sleeping bag, yoga mat, pillows, cushions, eye mask, blanket etc
(anything make you feel comfortable and warm)
[Contact]
Toshiko (Toshi) Matsumoto
0401 052 320 (text please, or phone urgent only on the day)
info@meditativesoundtherapy.com
*There will be monthly sound circles, each event as a different theme. They will include guest performers, various instruments, chanting, trans dance and more. Each month we will weave a tapestry together through the transformation of sound.
Keep an eye out on our event page!
11月の瞑想会のテーマは 「高次元のスピリットに波長を合わせる」です!
今回はたくさんのクリスタルアルケミーボウルととても貴重なクリスタルディジュリドゥとともにコラボする日本製の豊かな倍音楽器シンギング・リン®の瞑想会です。
私たちのコアに深く響くクリスタルディジュリドゥとクリスタルアルケミーボウルの様々な色合いの倍音、豊かな低周波から超高音波までの癒しの倍音の重なり合う音色を思う存分、お愉しみください。
繊細な感覚で様々な音の織りあいをつむいでいく三人のコラボレーションです。
Kerryは、シャーマニズムのマスターであり、The Weavers of Light の著者です。
そして心が落ち着き、体が喜ぶシンギングリンを奏でる淑子チームの身体へ直接響くマルチレイヤ―の倍音の振動もぜひお愉しみくださいね。
今回は特に現在までに身体と心の中にためてしまっている不要な過去のエネルギーをすっかり浄化しストレスを緩和し、意識を高次元のスピリット精神の波長に合わせるテーマとしています。
癒されて身体が軽くすっきりする感覚や、身体と心と魂がバランスする感覚などを感じて、自分の希望する世の中や、こんな風にありたい自分という素の自分をぜひ思いだして、高次元の意識から生きるという新しい人生の旅への出発にお役立てください。
サウンドヒーリング後にはハーブティーとスナックをご用意してます。
リラックス、グラウンディングしてからご帰宅いただけるように準備しておりますので
この先行き不透明な日々の中、心も身体もバランスよく精神的にも安心安全な感覚で生きていけますように、今回私たちは歌声と倍音と音楽をとおしてサポートさせていただけたらと思っています。
貴重な土曜日の夜、私たちとどうぞご一緒にゆったりとお過ごしください。
【日時】
1月2日 土曜日
7:00 pm 開始 (開場 6:40pm)
時間に余裕をもってお越しください。
8:30 pm 演奏終了
演奏後ハーブティーとスナックをご用意しています。
【場所】
Mudgeeraba Foundation Centre
(7 School St, Mudgeeraba)
【参加費】
前売りチケット at Eventbrite: $30 + Fee
https://www.eventbrite.com.au/.../angelic-sound...
当日ドアでは現金にて当日券: $35
【ご持参頂く物】
ヨガマット、スリーピングバッグ、枕、アイマスク、ブランケットなど心地良く暖かくいられる物
【お問い合わせ】
松本淑子(まつもととしこ)
0401 052 320
info@meditativesoundtherapy.com
* This event is hosted by:
Meditative Sound Therapy
www.meditativesoundtherapy.com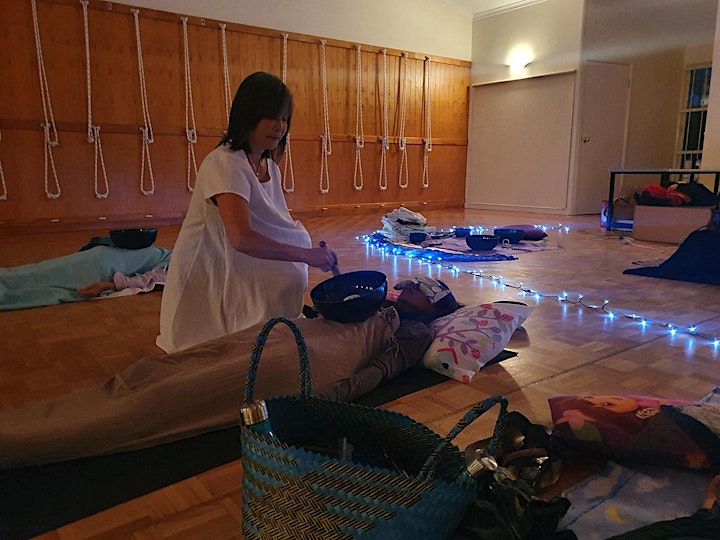 Organiser of Angelic Sound Meditation with Singing Ring- Tune in the higher spirits