Angel 100 InvestReady

Saturday, 24 March 2018 from 8:30 am to 4:30 pm (AEST)
Event Details
Angel 100 InvestReady
1-day intensive Startup Investment Readiness Course.
(Max 4 Teams)
http://moreton.ventures/investready/
Will you be one of the 100 Startups to get funded?  
WARNING:

You will be pitching to real Angel Investors!
What is Angel 100?
Target set by Angel Investors to fund 100 startups across Queensland in 2 years.
Launch Event: http://bit.ly/2vUdWkr
What is InvestReady?
Are you an entrepreneur?  Do you have an idea for a great new product or application?  InvestReady is a one-day-intensive course that will assist you to validate and fast-track the development of your concept/business to become investment ready.  The course is designed by successful entrepreneurs and early-stage investors to help you to: find your passion and drive; develop and demonstrate strategic clarity of your business idea; determine the potential of the idea; and provide you with the practical tools that are vital to chart your pathway forward.  The program will assist you to understand your strengths and avoid pitfalls.  It will impart what you need to do and where you need to be to acquire early revenue, and what is needed to gain the attention of local Angel investors. You will be expected to pitch to a real Investor.
To be a successful and effective entrepreneur you need to know where to go and be provided with the necessary tools to know where you need to be heading.  Your aim should be to achieve both early sales traction as well as the possibility of Angel Investment.  Being a prepared and guided start-up businesses in the early-stages of your development saves significant time, money and disappointment.  As an entrepreneur, you need to know very early if you really have the passion for the idea; if the idea is commercially viable, how big the market potential is; and what is the likelihood (if any) of receiving Angel investment. 
InvestReady is world's best practice in start-up ideation mixed with the X-factor – the hard-won, real-world knowledge of successful entrepreneurs.  It covers both the practical and psychological essentials that you need to be successful.  The content is based on the widely-respected and world-famous "Start with Why" by Simon Sinek.  The course is specifically adapted to early-stage, start-up businesses and designed to help you, as founder, identify your "Why" (are you doing this start-up) and demonstrate this to investors and the ways this becomes a catalyst in "How" you represent yourself, engage with your clients and "What" the product is and how you plan to meet your customers' need or desire.
1.0 The Why
Strategic Clarity

The Opportunity

The Big Plan 

The Exit Opportunities (The Trade Sale)

Designing the Entrance 

Seed Investment (Where you need to be)
2.0 The How
Business Model Canvas 

Customer Ideation 

Customer Development 

Customer Profile & Validation 

Value Proposition

Revenue Streams
3.0 The What
Agile Product Development
4.0 The Pitch
Basic preparedness for pitching to Angel Investor.

10min Pitch to guest Angel Investor
The outcome of InvestReady will be to find your entrepreneurial drive - your passion - and to help you craft that passion into a marketing message and product offering.  The intention is to place you on Steve Blank's Investment Ready index and provide you with the tools and experience to enable you to gain early market traction and readiness for early-stage investment.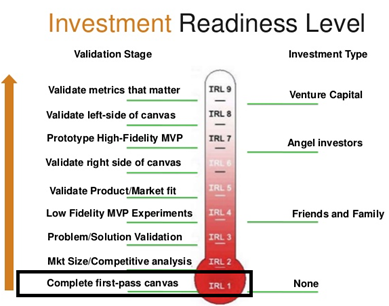 When & Where

371 MacArthur Ave

Hamilton, QLD 4007
Australia

Saturday, 24 March 2018 from 8:30 am to 4:30 pm (AEST)
Add to my calendar
Organiser
Moreton Ventures was founded by Angel Investors to provide early-stage support and development for high growth startups. Using worlds-best practice and a little X-factor magic, Moreton Ventures prepares early-stage businesses for investment and assists them for early traction, seed funding and success.