Description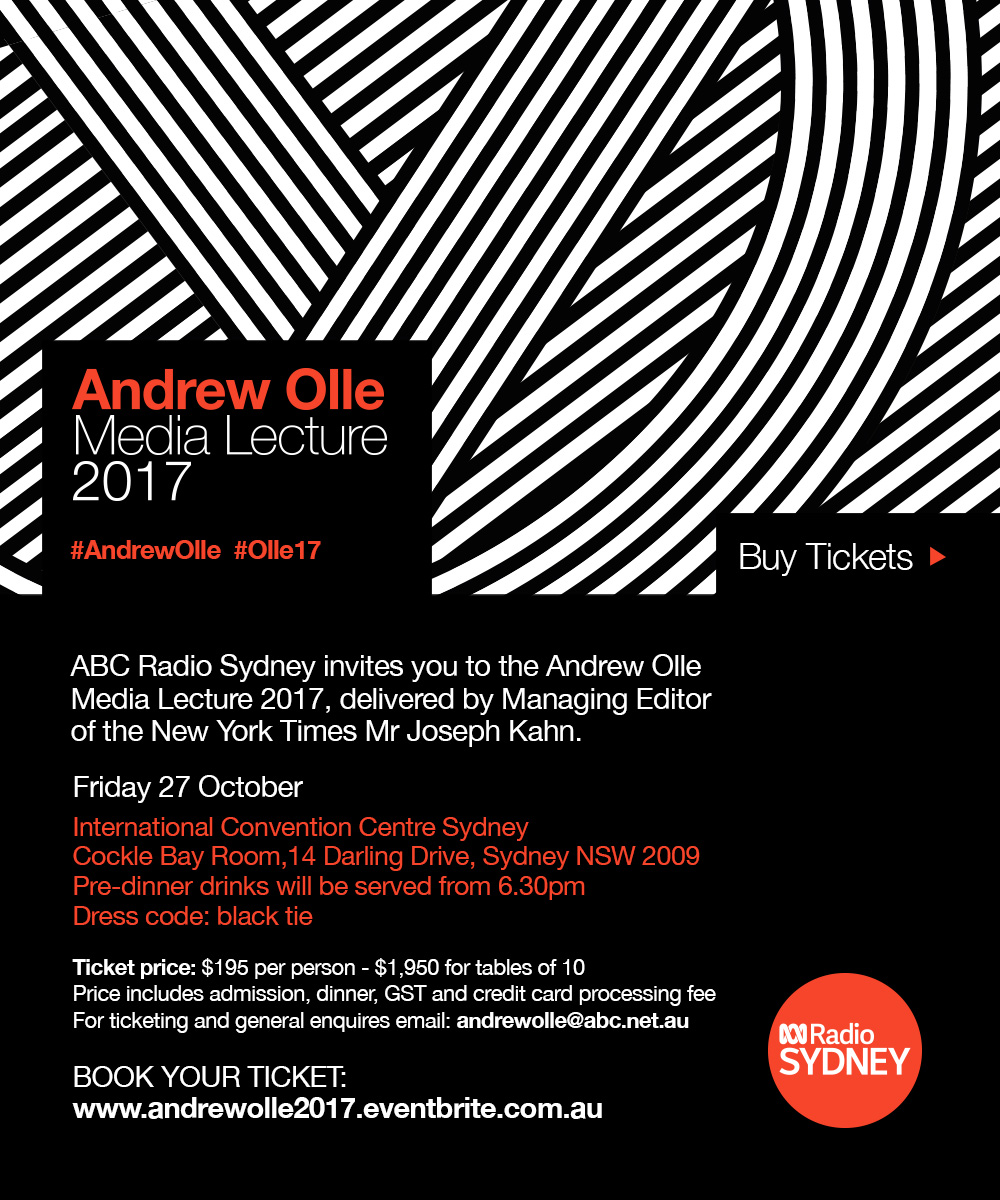 Please contact AndrewOlleMediaLecture@abc.net.au if you would like to secure multiple tickets or a table, as limited ticketing options remain.
---
ABC Radio Sydney is proud to announce the 2017 Andrew Olle Media Lecture will be delivered by the New York Times Managing Editor, Joseph Kahn on Friday 27 October.

Mr Kahn, a former Beijing bureau chief and International Editor for the New York Times, offers valuable insights into how newsrooms are meeting the challenges of digital transformation.

Mr Kahn was appointed Managing Editor in 2016 and has been instrumental in leading the New York Times' international strategy, which includes the investment of $50 million over the next three years to expand its international digital audience and increase its revenue outside of the United States. As part of this expansion the New York Times opened an Australian bureau in Sydney early in 2017.

The Andrew Olle Media Lecture focuses on the role and future of the media. Mr Kahn follows a long line of distinguished speakers, including Waleed Aly, Helen McCabe, Kate McClymont, Lisa Wilkinson, Mark Colvin, Laurie Oakes, Ray Martin, John Hartigan, John Doyle, Lachlan Murdoch, Kerry Stokes AO, Jana Wendt and David Williamson.

The lecture is held in honour of one of the ABC's iconic broadcasters, Andrew Olle. Following his death from a brain tumour in 1995, a fund was set up for brain cancer research. The money raised from the lecture goes directly to the Cure Brain Cancer Neuro-oncology Group at UNSW, which is now a world leader in personalised medicine for this type of cancer.