Event Information
Location
Sovereign Hill
Bradshaw Street
Golden Point, VIC 3350
Australia
"A most gruesome nest, between naked sandhills, where kangaroos croak and Culture says good night"
About this event
Sovereign Hill and Andras present 'Old Gold' live, in-person and on-location in the diggings. This all-weather, outdoor event will take place at sundown on museum grounds in Golden Point, Ballaarat.
Old Gold is a collection of fragile, private and deranged songs of parrots, pancakes and gelignite set amidst the Victorian Gold Rush of the 1850s. Hear gut-string guitars, water logged mandolins, bar room banjos and no-fidelity piano outdoors in the ruins of a real (simulated) goldfield.
Melbourne auteur Andrew Wilson (Andras, A.R.T. Wilson, Wilson Tanner) will perform his album of fakes and fools, rumbling stomachs and acousmatic terrors - a lonely, self-pitying search evoked by faintly medieval folk music that sounds almost period-perfect but somehow, oddly, wonderfully spoiled. The reproduction of familiar sounds via inorganic means situates the record in a moonlit, melancholy hole of its own.
The event organisers pay respect to the ancestors and elders of the Kulin nation, in particular the Wadawurrung peoples, the traditional custodians of the lands on which this event will be held.
Wheelchair accessible. Limited seating available. This is an over 18s event.
This is a Covid-safe event and will be held under the current government guidelines. Visitors 18 years of age and over must show their COVID-19 vaccination status as a condition of entry.
Sly grog and tea available.
$30 Waged / $20 Unwaged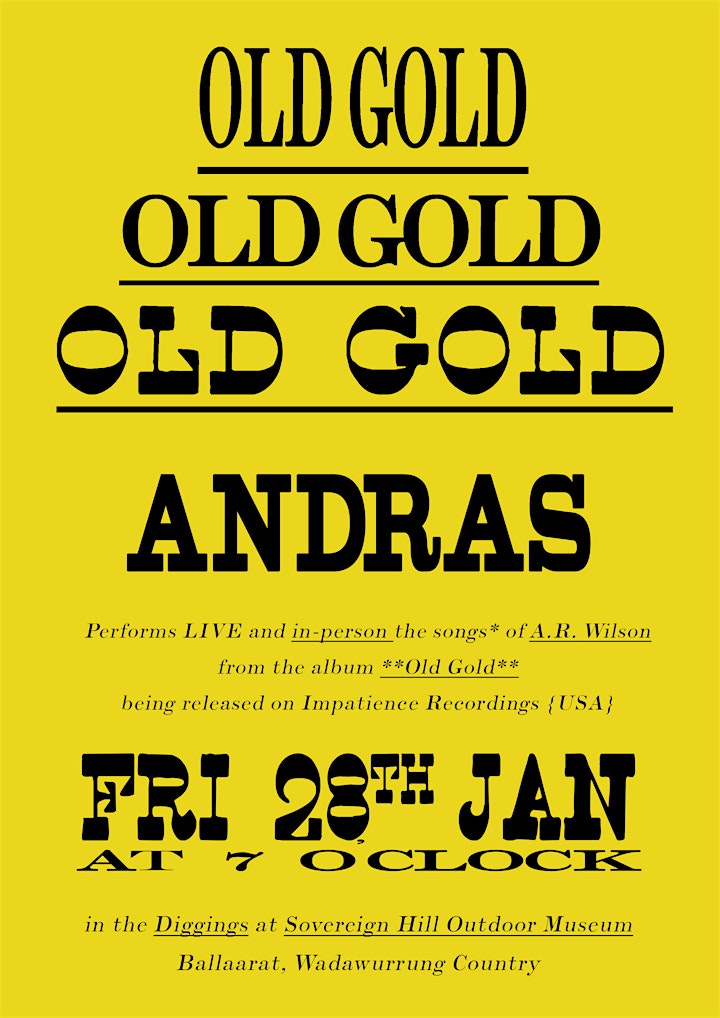 Date and time
Location
Sovereign Hill
Bradshaw Street
Golden Point, VIC 3350
Australia