Andraos Bros & Golden Hawk Wine Tasting Lunch

Sunday, 24 August 2014 from 1:00 pm to 4:00 pm (AEST)
Event Details
You are cordially invited to a Top Australian Wines  exclusive:
A 3 Course Wine Tasting Lunch featuring:

ANDRAOS BROS new release label GOLDEN HAWK

Andraos Bros wines are served in the finest 5- and 7-star hotels in the world.
On Sunday 24 August, it will be served in their own restaurant just above their cellar — Estelle's Cellar Restaurant 
WHAT: Andraos Bros & Golden Hawk Wine Tasting Lunch
PICKUP: Please meet out the front of Swan Street Exit of Richmond Station at 11.40AM.
Return Shuttle bus leaving 12PM from Richmond station and returning at 4PM

ORGANISER CONTACT DETAILS: Martin Peston. Mobile: 0412 33 33 22

WHEN: Sunday 24 August at 1:00PM - 4PM

WHERE: Estelle's Cellar Restaurant at Andraos Bros Winery, Sunbury

AVAILABILITY: Limited to 24 places. Reserve your seat at this unforgettable event now!
Bookings can also be made over the phone on 9500 9307

EXCLUSIVE DISCOUNT PRICE: $99 PER PERSON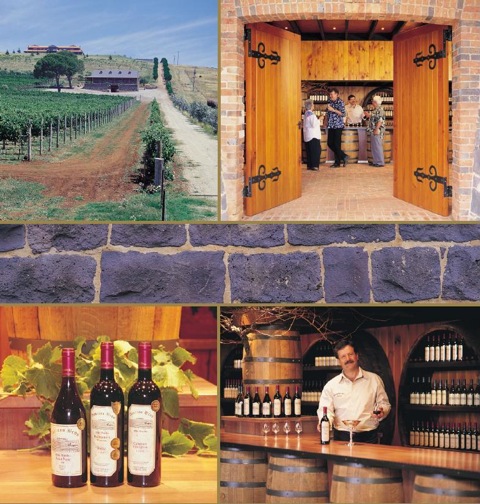 Details
What makes an incredible wine? What makes for an incredible experience?
It's the rich history — Such as the Sunbury vineyard, which began in the early 1860's. And it's rich, volcanic soil produces a bounty of perfect Andraos Bros wines today.
 It's the attention to every detail — Such as the unforgettable experience you'll have at Estelle's Cellar Restaurant located just above the Andraos Bros wine cellar.
It's the privilege — Andraos Bros wines are served in what was recently voted the world's best 7-star hotel — Emirates Palace in Abu Dhabi.
It's you — When you're a part of this extraordinary Andraos Bros Wine Tasting Lunch and enjoying their new label Golden Hawk with family and friends, at that moment… everything is picture perfect!



Introducing Golden Hawk

In the Andraos Bros great lineage of award-winning wines comes a new label that will astound your taste buds — Golden Hawk.
Throughout this Wine Tasting Lunch featuring exclusive wines from Top Australian Wines, the new Golden Hawk label will be showcased.
You'll try several varieties of this destined-for-greatness wine including a Chardonnay, Riesling, Cabernet, and Shiraz.
Plus, you will also have the opportunity to try an Andraos Bros wine!

 Easy Come, Easy Go — To make this event easily accessible for everyone, we have arranged a shuttle to pick you up from Richmond Station, take you to the winery, and then takes you back to Richmond Station when all is done.
ENTREE CHOICES:
1. Savour your premium Golden Hawk wines as you partake in gifts from the sea — SUGAR CURED SALMON drizzled in our own EXTRA VIRGIN OLIVE OIL and a BABY SALAD
or

2. There's perhaps no better combination than fine wine and prawns— GARLIC PRAWNS served with STEAMED RICE and SAUTEED BOK CHOY

Your first Golden Hawk wine is one to remember: 
2005 Golden Hawk Black Label Chardonnay
Tasting Notes:
A one-of-a-kind experience. Colour shows mid golden straw. Nose of melon, grapefruit & vanilla. Partial notes of malolactic fermentation with creamy buttery notes on a creme brulee finish. Good acidity to carry though the palate and a very good length.
Your next Golden Hawk wine is an aged Riesling: 
2005 Golden Hawk Black Label Riesling
Tasting Notes:
So many flavours, so little time. First colour indicates an aged wine with deep golden straw colour. The nose is of baked apple, spiced lemon and dried grapefruit. Palate still has bright acidity and shows aged characters. This is a very good example of aged Riesling and is drinking very well now.
MAIN COURSE CHOICES:
1. This single dish will redefine how you think of chicken breasts — CHICKEN BREAST wrapped in PROSCIUTTO, and nestled on a bed of CREAMY MASH
or

2. What's better than steak? Steak in a Andraos Shiraz sauce! ANDRAOS SHIRAZ STEAK — Char grilled excellence on CREAMY MASH POTATO, MUSHROOMS and RED WINE SAUCE

Continuing to serve Golden Hawk wines, this one pairs perfectly with your main courses : 
2004 Golden Hawk Black Label Cabernet Merlot
Tasting Notes:
Rich, savoury, every sip is perfect.

The nose of dense cassis, blackcurrant, spice, plush cherry and pencil shavings.

The palate is rich with a good balance and well integrated with chocolate, coffee and cocoa. It is a medium weighted red wine. Elegant and very drinkable.
 As you devour your main course, you'll relish the this spectacular wine: 
2004 Golden Hawk Black Label Shiraz
Tasting Notes:
Award-winning flavour with every sip. Nose of dark chocolate, graphite, plums & Asian spices. The nose displays dried meats and olives as a secondary nose. Fruit in the background with evidence of plum, aniseed and some oak. Palate of dark chocolate, graphite, plums & Asian spices. Palate is long with lovely lingering intensity.
DESSERT CHOICES:
1.  The most decadent pudding you've ever tried — CHOCOLATE PUDDING served with ICE CREAM and CHOCOLATE SAUCE
or

2. Ready to pucker up? For the citrus lovers, this one is a can't miss — LEMON PUDDING served with ICE CREAM and PASSIONFRUIT SAUCE
A perfect "sweet" wine to accompany a perfect sweet dessert: 
2000 Andraos Bros "Sweet Lily" Riesling
Tasting Notes:
"Sweet Lily" will tempt your taste buds as your perfect lunch comes to an end. It has a deep, rich and golden straw colour. Andraos Bros 'Sweet Lily' Riesling is extremely smooth and elegant which exhibits intense Riesling fruit characters with an acid balance. The nose displays sweetened limes and some apricot accents. It also has a soft floral and perfume smell as well. Slight hints of talc, and floral quite pretty on the nose. It has a good soft fruited palate with clear acidity still present. The nose follows through to palate. The sweetness is not overwhelming and well balanced within the wine.
The minute you step onto the Andraos Bros Vineyard, it's like stepping back in time.
When life was simpler, the soil was pure, and everywhere you look was a testament to nature.

The minute you step into Estelle's Cellar Restaurant, you'll experience smells and tastes that you'll remember for a lifetime.
The minute you savour the Andraos Bros new Golden Hawk label, you'll think you are in heaven!
Reserve your seat today
for this rare opportunity round-trip Andraos Bros Wine Tasting Lunch!
When & Where

Estelle's Restaurant
Andraos Bros Winery
150-170 Vineyard Road
Sunbury, VIC 3429
Australia

Sunday, 24 August 2014 from 1:00 pm to 4:00 pm (AEST)
Add to my calendar
Organiser
Martin Peston has been actively involved in the wine industry for the last 10 years and is the director of Top Australian Wines Pty Ltd which trades under the name of Wine Tasting Events.
He specialises in selling & showcasing boutique wines from Australia and around the world.
His wine website is www.topaustralianwines.com.au
For further details of upcoming events please visit his events website at http://winetastingevents.com.au