Sales Have Ended
Ticket sales have ended
Ticket sales are no longer available.
Sales Have Ended
Ticket sales have ended
Ticket sales are no longer available.
Description
The Australian Nanny Association (ANA) is a non-profit professional association and the national peak body representing the Australian nanny community. ANA is holding Australia's annual Nanny Convention and Annual General Meeting.
Our successul Convention in 2015 was so much fun we can't wait to offer a new event in a new location for 2016.
Non members are welcome to attend.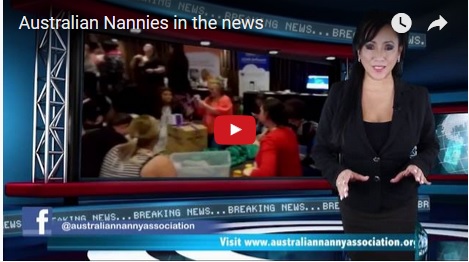 The ANA Nanny Convention will include a welcome evening and a full day event filled with fantastic speakers, professional development, socialising and lots of fun.

We will also be celebrating Saturday evening with our guests on the balcony from 6.30pm with In-House Entertainment getting the evening party started.
This year we are on the beautiful Gold Coast which means you can take advantage of everything the Gold Coast has to offer. The theme parks – Dreamworld, Movieworld, Seaworld, Wet 'n' Wild, WhiteWater World as well as Outback Aussie Spectacular. You've got Jupiters Casino if you're feeling lucky and of course the famous Gold Coast beaches. There's fun to be had throughout Surfers Paradise, from the golden beaches, to great shopping and excellent dining. Take advantage of your stay and extend to enjoy a well deserved mini break.

There will be exciting speakers, group participation, networking, morning tea, lunch, afternoon tea, cutting edge and fun professional development.
For those that want to continue on into the evening, on the Saturday there will be more planned activities.

Ticket options:
Pre-Convention Welcome (evening)
Convention day
Professional photography session (headshots for your resume, social media, website)
Post-Convention social
After dark social
Focus of the Convention
THEME: Growing Together

Showcase the attributes of the nanny sector through mini-keynotes & workshop presentations via tracks.
Understand and value the important role of the professional nanny in the education and care of Australia's children.
Embrace, through a full day immersion experience, new ideas and strategies that can be implemented into the nanny role and enhance our support of the children and families in our care.
Allow the opportunity for participants to network throughout the sessions, morning and afternoon tea, lunch and dinner.
Farewell our 2015-16 ANA committee and welcome in the new 2016-17 committee.
You can view a video a promotional Convention video here.

Speakers and topics will be announced monthly.

Frequently Asked Questions

Some useful Facts and Tips regarding the Australian Nanny Association Nanny Convention

We invite you to enjoy the Convention while experiencing Australia's Gold Coast in Queensland. The Gold Coast is a city coming of age. Strategically located on the edge of the Asia-Pacific rim, with access to two international airports, the Gold Coast is perfectly positioned as a destination for business, investment, study, sport, events, tourism and lifestyle.

The Gold Coast stretches along 57 kilometres of coastline and is home to over half a million people. Beyond the city's beautiful beaches are vast, sub-tropical rainforests with breathtaking scenery.

Welcoming close to 12 million visitors each year, the Gold Coast is full of attractions and things to do. As Australia's premier tourist destination, the city offers a vibrant mix of shopping, accommodation, theme parks, restaurants, entertainment and events, along with an abundance of natural attractions.

The Gold Coast has developed into a diverse, cosmopolitan, forward-thinking city with a future full of promise. As host city for the Commonwealth GamesTM in 2018, the Gold Coast is embracing transformative civic projects like never before, with more than $13.5 billion in major infrastructure projects planned or underway set to change the face of the city in a way that is distinctly their own.
Capture the natural charm and ambience of our beautiful location:
Surfers Paradise Beach: 500m
Light Rail (tram): 650m
Bus terminal: 800m
Q1 Sky Point Deck and Sky Point Climb: 1.1km
Jupiters Casino: 8.5km
Gold Coast theme parks: 29km
Tamborine Mountain (Gold Coast Hinterland): 35km

ACCOMMODATION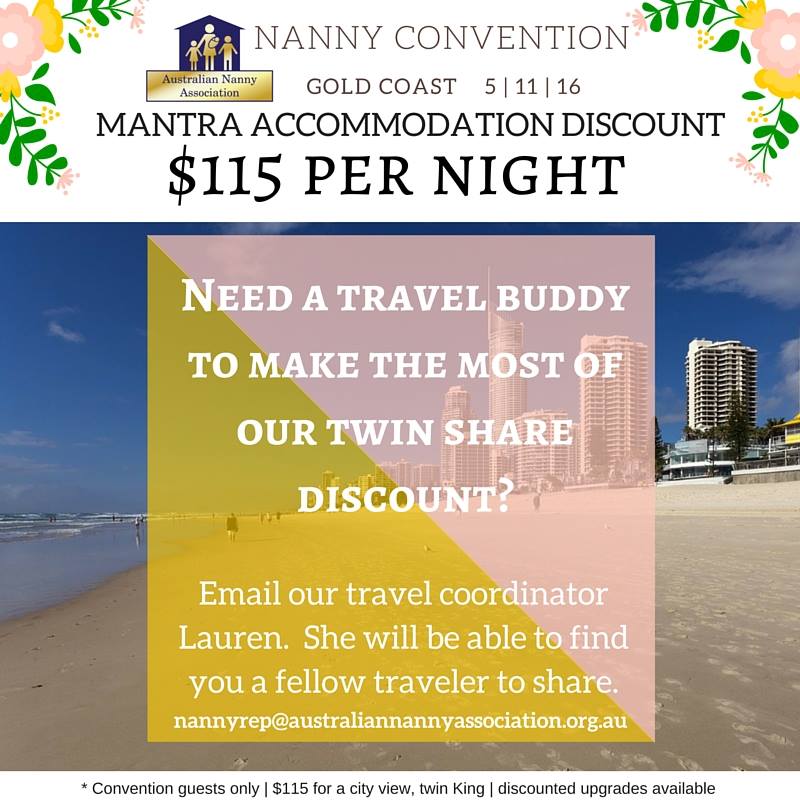 Mantra on View Hotel Surfers Paradise, QLD : Positioned right in the heart of Surfers Paradise just 160m from the beach, Mantra on View Hotel is an ideal choice when visiting Queensland's famous Gold Coast. Every room within this Surfers Paradise accommodation provides all of the facilities you need to make yourself at home.

We have negotiated special discounted accommodation for our guests as follows:
CITY VIEW / TWIN KING - $115 per night
OCEAN VIEW / TWIN KING - $125 per night
HIGH OCEAN VIEW / TWIN KING - $135 per night
*There are also many other accommodation options available.

Full buffet breakfast - $19.50 per person - this can be selected at time of booking

* Do you need a travel buddy or would like to share accommodation?
Email: nannyrep@australiannannyassociation.org.au for more information



*You must be 18 years of age to attend the Australian Nanny Association Nanny Convention.

There is parking available at The Mantra on View Hotel at $8 per night or if you enter before 10am it is $5 per car.

DRESS CODE: Smart casual attire

You can bring your friend, colleague or employer along if you would like as long as they or you have purchased an additional ticket. You do not have to be a nanny or agency to attend but as this is a nanny community specific event the topics will all be nanny specific.

Each ticket is allocated to it's own V.I.P and is non-transferable

Refunds, Exchanges and Replacement Tickets

Before purchasing tickets, carefully review the event details. An exchange or refund for a lost, stolen, damaged or destroyed ticket (including where a ticket does not arrive in the mail) is not available. A change in personal circumstances does not entitle a ticket holder to return or exchange a ticket.

Subject to any statutory rights of refund (including, without limitation the provisions of the Australian Consumer Law), if an event takes place then generally there is no right to a refund or exchange, including where a ticket holder cannot attend because of adverse weather conditions.

*We will be announcing speakers monthly in the lead up to the Convention.
* Speakers or scheduling may change at any time prior to the event.

Join the conversation using #ANACONV16
powered by Tagboard
Lauren Brown

Lollaby

Guest Speaker - Workshop

Janita Docherty

Cyber Active Services

Guest Speaker - Workshop

Simone Emery

Play With Food

Guest Speaker - Workshop

Jason Gray

Magique

Entertainer

Amelia Harrison

Toby the Teddy

Guest Speaker

Dr Kaylene Henderson

Child Psychiatrist

Plenary

Karyn Johns

S.P.E.E.C.H

Guest Speaker - Workshop

Sarah Kinghorn

Australian Nanny Association

Facilitator

Joanne Matthews

Reflux Infant Support Association

Guest Speaker - Workshop

Kathleen O'Shaughnessy

Queensland Government

Guest Speaker - Workshop

Danielle Robertson

Australian Nanny Association

MC

Annemarie Sansom

Australian Nanny Association

President

Steven Schmidl

Australian Taxation Office

Guest Speaker

Michelle Scott

Child Safety Solutions

Guest Speaker

Kellie Walters

Kellie Walters

Keynote

Monica Zidar

Music with Monica

Guest Speaker - Workshop