Description
About This Session

Align your IT to increase your social impact.
The key to using technology to increase your impact is to:
Create an IT strategy that aligns to your purpose
Invest in the capability to execute it
Lead it properly with good governance
Sounds pretty straight forward but as you start to unpack it things can get complex pretty quickly.
The world of IT is fast moving and keeping up feels overwhelming.
How do you keep abreast of all the changing technologies and how do you choose what is right for you?
The answer is you don't need to.
In a world of too much information what's required is not more information, but direction.
Set your direction and you'll find getting the information you need is relatively easy.
But to achieve that clear direction you need an IT strategy that values practicality and quick learnings.
Come along to this breakfast session to learn how to achieve exactly that.
The Framework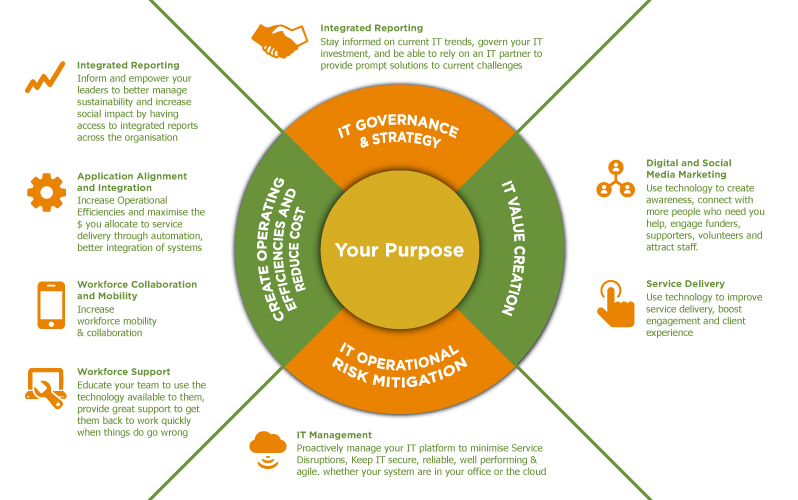 Takeaways
An understanding of what good looks like when it comes to Not-for-Profit IT in 2016
The mechanics of an IT strategy and how to apply them
A practical framework from which to craft an effective IT strategy
About the facilitators
Ian Patterson, CEO at Human IT
With almost 20 years of experience in IT strategy and management, Ian is passionate about helping not-for-profit and for-purpose organisations create social value through IT. Human IT strives to help the social sector organisations fix their internal operations and boost their social impact.
Visit the website to learn more about Not-for-Profit IT Solutions
Donna Orchard, Business Analyst and IT Consultant at Orchard Consulting Group
Founder of Orchard Consulting Group: a specialist IT consulting service that offers business and software analysis to NFP's looking to purchase and implement customised-off-the-shelf software, in particular Client Management and Service Delivery systems. Currently researching systems that will support the NDIS.
Rodney Ferro, Digital Marketing Strategist at PN
After being in the industry for over 16 years and developing digital marketing strategies, campaigns for social media channels, working with over 300 clients I am currently focused on a select number of clients providing Digital Strategy and Online Marketing services in a contract role (helping with all things digital).