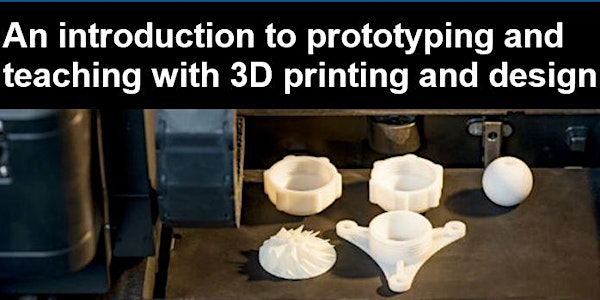 An introduction to prototyping and teaching with 3D printing and design (Te...
Event Information
Location
Nexus 10 Building
Level 1, 10 Pulteney Street
Adelaide, SA 5000
Australia
Refund policy
Refunds up to 7 days before event
Description
Explore the potential of 3D design and printing as a transformative prototyping and teaching tool with this introductory, hands-on, two-day course aimed at educators. Presented by the Entrepreneurship, Commercialisation and Innovation Centre (ECIC) and Makers Empire, this course is for school teachers with little or no 3D experience. Learn how to harness 3D technology to teach K-8 students important STEM subjects, design thinking, and 21st century skills such as critical thinking, collaboration, creativity and citizenship.

The course will give teachers hands-on access to 3D printing hardware, software and other tools appropriate for a school classroom. The course will cover a range of modules including:

- 3D design software
- applications for 3D design and printing
- planning a design project
- prototyping

See the brochure attached for more detail on the course content.

The cost of the course is $300. This includes access to 3D printers, software and tools. Participating teachers will receive a Professional Development certificate.
Date:
Monday 16 and Tuesday 17 April 2018
Time:
9am to 5pm
Venue:
University of Adelaide, Nexus Bldg, Crn Pulteney Street and North Terrace, Adelaide
Bookings:
Who are Makers Empire

Makers Empire is a global educational technology company, headquartered in
South Australia. Makers Empire helps educators and entrepreneurs harness the power of 3D printing and design as a transformative tool to use in the classroom, workplace or home. Makers Empire has helped thousands of teachers in Australia, America, Asia and Europe use 3D printing and design as an everyday teaching tool to help students develop the skills and dispositions they need to thrive as 21st century learners, innovators and leaders. Makers Empire is passionate about empowering people to become critical, creative and design thinkers who are well equipped to identify needs, opportunities and solutions for creating preferred futures.
Date and time
Location
Nexus 10 Building
Level 1, 10 Pulteney Street
Adelaide, SA 5000
Australia
Refund policy
Refunds up to 7 days before event