About this Event
An Introduction to Impact Angel Investing Breakfast
Come and join us for breakfast and learn from experienced impact investors within the Victorian startup community on Social Impact Angel Investing, including best practices and strategies on building up your portfolio.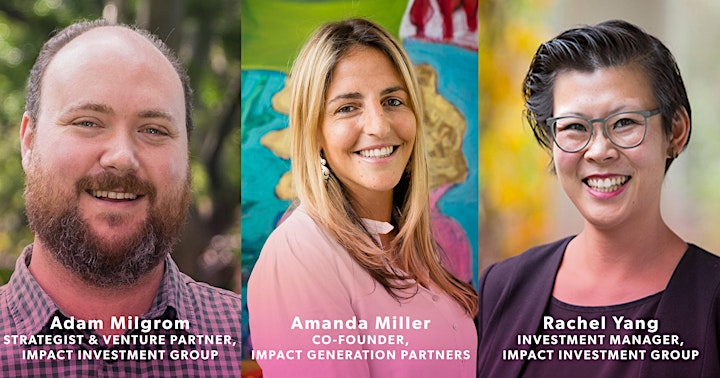 Adam Milgrom, Strategist & Venture Partner, Giant Leap Fund - Adam is a highly proficient strategist with over 10 years experience across a range of industries. He is an active investor in early stage Australian and International businesses. Adam is committed to making a positive impact and has combined his interest in technology with the desire to work on projects which accelerate us towards a better future.
Amanda Miller, Co-Founder, Impact Generation Partners - Amanda is a co-founder of Impact Generation Partners, which invests in, advises and supports enterprises that deliver financial as well as social and/or environmental returns. Amanda is passionate about and committed to building the impact investing ecosystem alongside the philanthropic sector in Australia. She is Deputy Chair of the Expert Panel of the Federal Government Social Impact Investing Taskforce and Co-Chair of Philanthropy Australia. She is a committee member of the Impact Investment Forum, an initiative of the Responsible Investment Association of Australasia (RIAA).
Amanda holds a Bachelor of Arts and a Bachelor of Law (Honours) from Monash University and started her career practicing corporate law. She then moved into the philanthropic sector working with not-for-profit organisations and in philanthropic services, assisting intergenerational families and individuals to implement strategic giving programs. Amanda strongly believes in the power of supporting and investing in women and girls. A past staff member and Board member of the Australian Women Donor's Network, Amanda is proud to have advised and invested in a number of for-purpose enterprises founded or co-founded by women.
Rachel Yang, Investment Manager, Giant Leap Fund - Rachel has a background in management consulting and deal advisory / corporate finance. Her strengths include providing strategic, commercial and financial advice, simplifying complex concepts and coaching and supporting founders. Rachel is committed to using her experience to help people solve old social / environmental problems in new ways and working with them to scale their positive social and environmental impact. Most recently, Rachel has been appointed as a board member at Startup Vic.