About this Event
An Introduction to Angel Investing
Come and join us for breakfast and learn from experienced investors within the Victorian startup community on Angel investing, including best practices and strategies on building up your portfolio.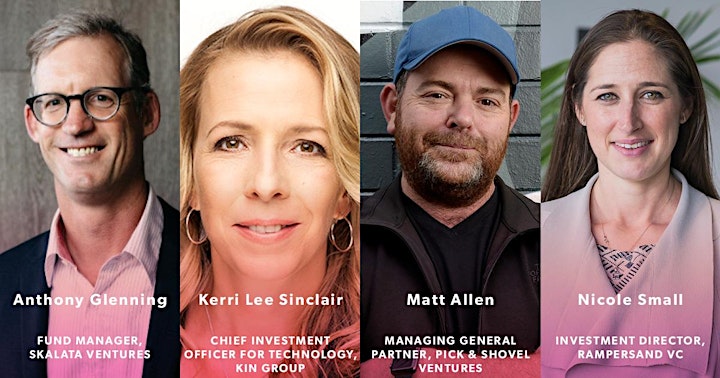 Anthony Glenning - Fund Manager at Skalata Ventures. Anthony is an experienced entrepreneur, investor, board member and mentor to start-ups and high-growth companies. He is also a seasoned CEO and founder being operationally involved with the start, growth, and exit of three companies.
Kerri Lee Sinclair - Chief Investment Officer for Technology at the Kin Group. Kerri Lee has over 20 years' experience working across the high-growth technology ecosystem. Over the last three years, she has led the direct investment of private capital into select Australia-based global high-growth technology companies focused on agtech, supply chain and enterprise disruption. Kerri Lee is also the Chair of SBE Australia.
Matt Allen - Geek turned business guy. Investor, advisor & mentor, Matt is a Co-founder and General Partner at Australia's first revenue based investment fund for tech companies.
Nicole Small - is the Investment Director at Rampersand VC, an early stage venture capital fund focusing on Seed to Series A staged companies. Rampersand invests and supports visionary Australian and New Zealand technology founders as they build world-changing business. Prior to Rampersand Nicole spent seven years in SEEK's strategy team, and a number of years in strategy consulting and investment banking. This journey has given her broad insight into investing, product strategy, general business operations and fast growth technology environments.
Who is the breakfast for?
Those wanting to learn about Angel investing from esteemed investors on what it means to be an angel investor, how to navigate startup investing, and to strengthen your networks.