You are invited to an EXCLUSIVE NETWORKING EVENT for students where you can meet industry representatives of different fields
About this event
As international students, have you ever thought about this: Is having a university degree enough to land you a dream job? With countless competition for one job, all you need is a bridge to break into the industry. Start with developing your professional network, connect with the industry professionals here.
Whether you are lacking a bridge to break into the industry, wanting to develop your professional network, or simply seeking personal advice about the career opportunities out there, this networking event offers the perfect occasion to answer all your questions!
Industry Networking is Together Project's second grand event specially designed for international students to mingle with industry professionals. It is a small-scale speed networking structure session, allowing you to build close relationships with business insiders from various fields.
This is an opportunity to create future opportunities.
Network with industry professionals to open doors for your career. The event is small-scale, and applications will be accepted on a FIRST COME FIRST SERVE basis so apply now to secure your spot!
Date: 19th June 2021 (Saturday)
Time: 1:00 - 4:00PM
Location: Hope Mission Centre, North Parramatta
Dress code: Business Formal
Early Bird: $20 (1st May - 22th May)
Standard: $25 (23th May - 8th June)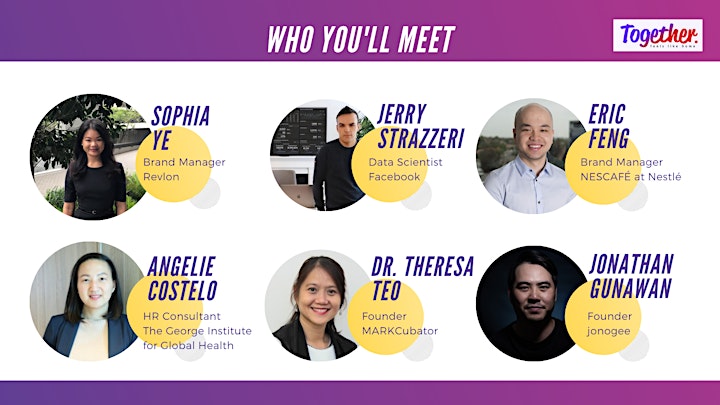 About TOGETHER PROJECT
"Together" is a collaborative project with the Christian business community and a non-for-profit organisation (Hope Mission Centre). This project aims to holistically help migrants and international students who may have newly arrived in our country or existing students to successfully integrate into Australia culture and lifestyle and the local community.
CORE PARTNERS & SPONSORS

MARKCubator Agency
Engineered by AlphaIMM Agency, MARKCubator is a marketer incubator that breeds new generation digital marketers to market client's products or services. We aim to develop job-ready marketers by providing an environment of a holistic mix of talent and experience, making up its leadership and network.
www.markcubator.com
Jonogee Studio
Jonogee Studio is a photo, video and design production house based in Sydney, NSW Australia. Founded in 2005 by Jonathan 'Jono' Gunawan, who has worked for companies such as MTV Networks Australia, Laservision Mega Media and Nine Networks Australia as Digital Media Producer, Multimedia Director and Senior Broadcast Designer/Graphic Supervisor on shoots respectively. The studio now has an impressive portfolio, working on projects with big brand companies such as Lamborghini, IBM and NSW Transport, among others.
www.jonogee.com
Hope Mission Centre
Hope Mission Centre is a Christian non-profit organization founded in 1999. Committed to enriching lives with purpose and hope, Hope Mission Centre has been actively equipping and empowering people for life for over 20 years. The organisation has grown to become a multi-faceted, vibrant organisation many volunteers united in a mission to serve the community. They have also expanded their services to Singapore, Malaysia and China.
www.hmc.org.au
-
TRANSPORT INFORMATION
Take a train to Parramatta station, followed by a bus (600, 601, 604 or 606) to 569 Church Street, North Parramatta.
Click here for the map: https://goo.gl/maps/5TAzYZjya4ars8E36
COVID-19 NOTE
Social distancing will be observed, hand sanitiser will be provided. We recommend you wear a mask and stay home if you're feeling unwell.