Location
Hotel CBD
52 King Street
Sydney, NSW 2000
Australia
An Exclusive Luncheon for Non-Profits
About this event
Old and disconnected technological systems no longer fit the purpose of effective engagement with donors. If you are a Non-profit, looking to transform your business processes to better engage with your constituents via digital channels, this event is for you.
Look Who's Speaking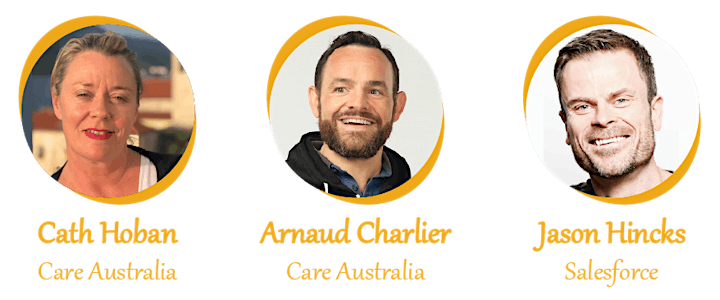 Who should attend?
CEO
Head of Fund Raising
CIO
Head of Marketing
You will:
Understand the macro level challenges for Non-Profits
Learn to connect with a new generation of constituents to increase returns.
Hear from CARE Australia:
What was the tipping point to transform?
The plan to a successful transformation
Challenges faced & lessons learnt
Agenda
11:45 AM – Registration Commences
12:00 PM- 12:15 PM – Proceeding to Tables
12:20 PM – 1: 20 PM – Revolutionise with Digital
Connecting with a new generation to stay relevant – Jason Hincks – Head of Strategy for Salesforce.Org
Why we Transformed – By Cath Hoban – Director of Fund Raising and Marketing – CARE Australia
How did we Orchestrate Change - By Arnaud Charlier – Head of data and Platform Performance- CARE Australia
1:20 PM - 1:40 PM - Q & A Session
1:45 PM – Closing Remarks
Where
Hotel CBD, Corner of King and York Streets Sydney, 2000
Amplify the impact of your programs with this luncheon!