You're invited to a special evening with Mark Mordue, in conversation with Miriam Hechtman.
About this Event
We will be joined by Mark Mordue on the 25th of November, to celebrate and discuss his new book, Boy On Fire - the life and times of young Nick Cave.
Mark Mordue will be in discussion with Miriam Hechtman.
WHEN: Wednesday, 25th of November, 2020. In-store ticket holders should arrive by 7:15pm for our prompt 7:30 pm start.
TICKETS: 
ONLINE: $5.00 (excluding external fees). You'll be able to tune in to the event from the comfort of your own space via Zoom. Your Zoom attendance links will be sent out on the day of event, as well as 10 minutes before kick-off time as a reminder.
IN-STORE: $59.95 (excluding external fees). Come to the book talk in person! Very limited seats are available to adhere to social distancing guidelines. You will receive a copy of Mark Mordue's book Boy On Fire (RRP $39.95), and have nibbles on the evening.
The first volume of the long-awaited, near-mythical biography of Nick Cave, by award-winning writer, Mark Mordue.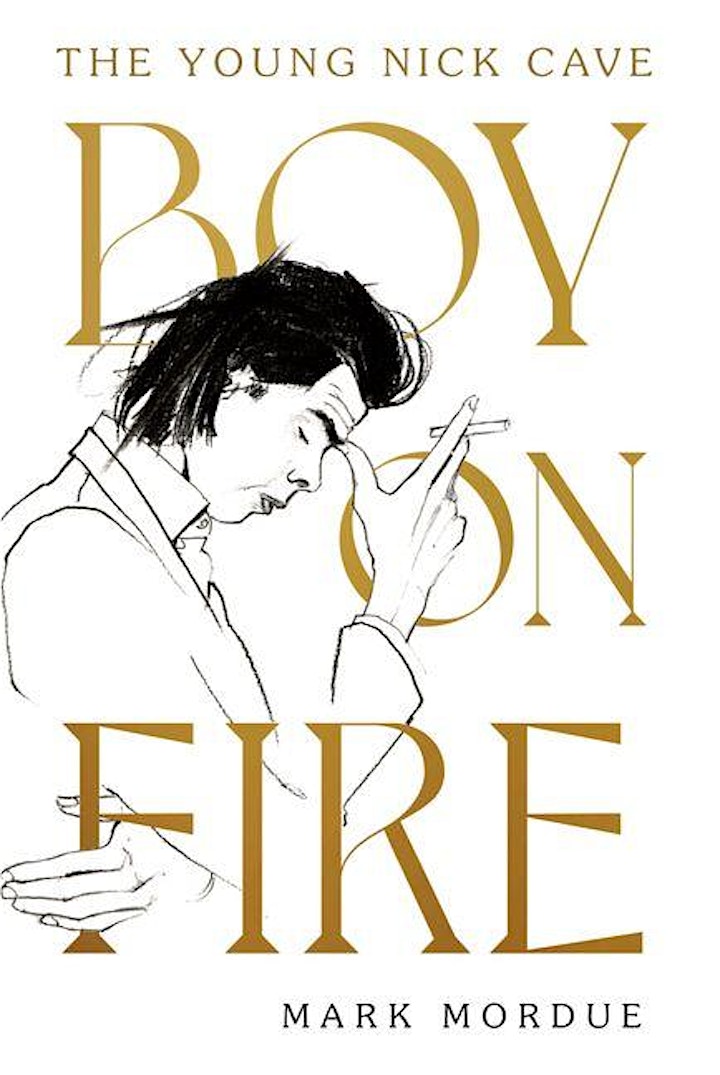 A beautiful, profound and poetic biography of the formative years of the dark prince of Australian rock 'n' roll, Boy on Fire is Nick Cave's creation story. This is a portrait of the artist as, first, a boy, and then as a young man. A deeply insightful work which charts his family, friends, influences, milieu and, most of all, his music, it reveals how Nick Cave shaped himself into the extraordinary artist he would become.
As well as a powerfully compelling biography of a singular, uncompromising artist, Boy on Fire is a fascinating social and cultural biography, a vivid and evocative rendering of a time and place, from the fast-running dark river and ghost gums of Wangaratta, to the nascent punk scene which hit staid 1970s Melbourne like an atom bomb, right through to the torn wallpaper, sticky carpet and the manic, wild energy of nights at the Crystal Ballroom.
Boy on Fire is a stunning biographical achievement..
'All the relevant voices have their say, creating a wonderfully alive picture of this tumultuous time in modern Australian music ... on the page they glint with vitality and humour ... written with mercurial flair' - Books+Publishing
About Mark Mordue
Mark Mordue is an Australian writer, journalist and editor. He is a co-winner of the 2014 Peter Blazey Fellowship, which recognises an outstanding manuscript in the fields of biography, autobiography or life writing, and also the author of Dastgah: Diary of a Headtrip (Allen & Unwin, 2001), which was shortlisted for the 2002 Qantas/City of Brisbane Asia-Pacific Travel Writing Prize. His work has been published in Interview, Madison, Speak, The Nation and Salon, as well as Rolling Stone, Vogue, GQ, The Australian, and The Sydney Morning Herald. Mark was the winner of a 1992 Human Rights Media Award and the 2010 Pascall Prize for Critical Writing. From 1992 to 1997, he was the founding editor of Australia's leading pop culture magazine, Australian Style. His poetry, fiction, essays and memoir work have appeared in literary journals such as HEAT, Meanjin, Griffith Review and Overland in Australia.
About Miriam Hechtman
Miriam Hechtman is an Australian writer, creative producer and poet. She has written for publications including The Australian Financial Review, researched for Discovery Channel and was Associate Producer on Showtime documentary Outwitting Hitler. For several years, she collaborated with award winning UK photographer Harry Borden on the book Survivor – A Portrait of the Survivors of the Holocaust.
Today, Miriam is the founder and creative director of POETICA, a creative initiative and monthly live poetry and music event.