Description
You are invited to an evening of Deep Rest & Transformation.
Pranayama, Yoga Nidra, Healing Oils and Sound Healing with Alchemy Crystal Singing Bowls.
We will begin with pranayama - Pranayama means breathing with a purpose, with consciousness and awareness. As we open deeper with the breath, supported by the healing oils and Yoga Nidra you will be guided into a deep state of relaxation and opening.
From this deep space of peace you will then be bathed in the healing sounds of the Alchemy Crystal Singing Bowls.
The Alchemy Crystal Singing Bowls are made of 99.992% pure quartz infused with precious crystals, gemstones and/or minerals. Our entire human body down to our very DNA is crystalline in structure, causing it to respond and resonate with the extraordinary frequencies associated with quartz crystal.
As the sounds wash through your being you will be supported to release, re-set and re-tune, aligning with your true nature and in turn your true potential.

This gathering holds much potential for healing and transformation we hope that you can join us for this deeply nourishing evening.
Yoga matts provided, please bring a blanket and whatever you need to get cosy so you can deeply relax.
Please arrive at 7:15pm for for a 7:30pm start, doors will close shortly after to begin the meditation. Please note no entry once we begin the meditation.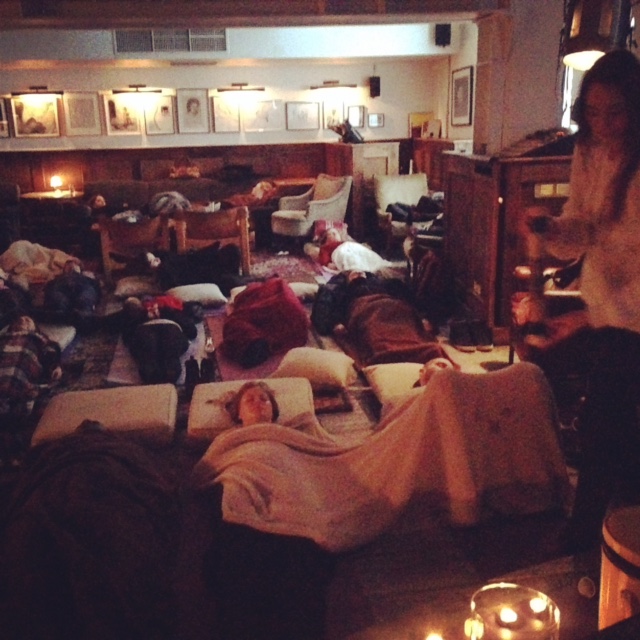 Testimonials:
"Beautifully held space allowing me to access a really deep state of relaxation . The energies brought in and voice were truly exquisite. Highly recommended! I shall definitely be coming back. Thank you" Susan
"I wanted to thank you for a lovely session last night full of good energy, I had never been to a sound bath before and the feeling of clarity afterwards was amazing. I suffer from anxiety and it was just what I needed to reset! thanks again". Pip
"I have meditated a little before, but never with sound, which I found very powerful. Thank you again. It truly was an amazing experience". Sophie
Carly Grace Bio
Carly is a Sound Practitioner working with Crystal Singing Bowls and Voice, Meditation Practitioner, Reiki Master,and Light Grid's Practitioner, trained in the healing technique by Damien Wynne.

She holds regular group Energy and Sound sessions for the Soho House Group, Private sessions and Group Events at triyoga, Meditations in the Workplace and Sound Healing and Wellbeing Retreats in the UK and abroad.
Carly worked as Co-Director of the London College of Spirituality, hosting inspirational events with guests from around the World and has co-hosted spiritual and sound healing retreats in the UK and abroad.

She has trained with master teachers from around the World and celebrates sharing these gifts, supporting individuals on their path. It is her passion to support you in experiencing deep peace, clarity and alignment to your potential.


Leonardo Cordero Bio
Ayurvedic Clinical Specialist, a Shamanic Spiritual Healer; a Certified Nutrition and Health Coach specialized in Holistic Nutrition, Detoxification and Purification as well as a Certified 200 RYT Yoga and Meditation Teacher.
Leonardo Cordero is fiercely committed to guiding people that wish to change their mindset to clean their lives. With over 13 years of experience working with clients guiding them to achieve remarkable success, his mission and commitment is to assist you to make that change. His intention is to support you to introduce habits that work, while letting go of the ones that don't and best of all, get to a place of self-understanding, so you can really enjoy life by creating a stronger reality for yourself in alignment with your own Divine Nature and purpose.
Leonardo is an Certified Ayurvedic Healer; a Certified Health Coach specializing Holistic Detoxification & Purification and a Certified Yoga & Meditation Teacher and Shamanic Spirtual Healer Student of Shamans from the Amazons. His passion for healing is based on 4 primary pillars. Ayurveda, Yoga, Vipassana Meditation in the tradition of Goenka Ji and Shamanism under the guidance of his Teacher Taita Juan Chindoy from the Inga Culture from the Amazonian Colombia.