Description


---
---
An Afternoon with Shirley
Shirley Leads by Action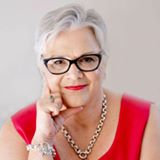 Grab a friend and come along to hear how Shirley has embraced change from adversity to redefine a new sense of purpose.
Shirley believes defining and exploring a sense of purpose is the key to creating a fulfilled life
Transforming your life and creating your abundance, need not be as arduous as you think.
My life has been full of twists and turns. Many points of trauma and adversity. Maybe not in equal measure but I have had many high points in my life like many of you.
With song in my heart and a spring in my step, I will show my fun side, while sharing my trials of adversity to mastery of accomplishment, in my life's journey, to help you see there is light beyond the trees of hardship.
Hear & Learn about the impact "Result Coaching" had in transforming my Life
Join us for a fun and life changing afternoon that will shape the rest of your life!
Refreshments will be available so: Registration is necessary for catering
Please advise of any special requirements.

This is a disability inclusive venue.
Bring pen and paper for taking notes